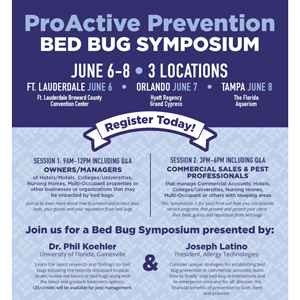 Allergy Technologies is joining the efforts of the Professional Pest Management Alliance (PPMA) to educate on bed bug prevention during Bed Bug Awareness Week, June 4-10, 2017. The team of Joseph Latino, president of Allergy Technologies, and PMP Hall of Famer Dr. Phil Koehler, University of Florida, Gainesville, will hit the road in Florida to talk about the importance of bed bug prevention to pest management professionals (PMPs), hoteliers, nursing homes, colleges, universities and others. Continuing education unit (CEU) credits will be offered for Dr. Koehler's session.
The Symposia will offer separate daily sessions for three days June 6-8, one for pest professionals who primarily service commercial accounts and one for commercial businesses that offer sleeping areas. Each session will include presentations by Dr. Koehler, who will discuss the latest research findings on bed bugs, including the most up-to-date treatment techniques. Latino, will offer strategies for proactive prevention of bed bugs in commercial accounts; discuss how to stop bed bug re-infestations and re-emergence; and cover the financial and reputational benefits of prevention to the client and the service provider.
"We are always excited to be stewards of the community and launch our first intensive Bed Bug Prevention series in Florida, free of charge to attendees," Latino says. "We specifically chose this week as our signature kick-off event to improve the 'Quality of Life' of our customer's clients, hotel guests, assisted-living residents or anyone confronted with or at high risk for bed bugs. This Symposia series is in lockstep with our philanthropic mission to provide opportunities for the less fortunate and those afflicted by bed bugs, in hopes we can affect a significant change in their lives."
The Symposia will take place June 6 in Fort Lauderdale, June 7 in Orlando, and June 8 in Tampa. Each morning session will run from 9 a.m. to noon, and is offered to owners/managers of hotels, colleges, nursing homes, vacation homes, multi-occupant properties any other business or organization impacted by bed bugs. Afternoon sessions are scheduled from 3 p.m. to 6 p.m., and are tailored for commercial sales and pest professionals. For more information and registration, visit Activeguard.allergytechnologies.com/symposium.