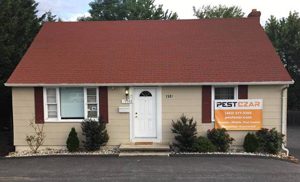 Family-owned Pest Czar has had a busy summer. Not only did it become GreenPro certified by the National Pest Management Association (NPMA), but it has moved to a new office. The new office, at 1502 E. Joppa Rd. in Towson, Md., (pictured at right) was chosen as a convenient headquarters near Pest Czar's customers and employees, reducing drive time and gas usage.
In addition to the GreenPro certification, Pest Czar is certified by the Maryland Green Registry and also holds the NPMA's QualityPro certification.
As the business continues to expand, Co-owners Sasa and Erika Milenkovic will train all Pest Czar employees using GreenPro and QualityPro protocols so that its four technicians and three administrative staff will have the skills and knowledge to deliver excellent results to customers.