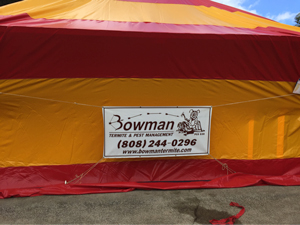 The Hawaii Pest Control Association (HPCA) announces the winners of its annual Fumigation Banner Bonanza Contest, sponsored by Douglas Products and Vikane gas fumigant. The contest recognizes the promotion of structural fumigation through outstanding job site banner signage.
Bowman Termite & Pest Management of Wailuku, Hawaii, took first-place honors. The judging panel commented on the banner's graphic as being a memorable connection to the company's name, along with easy-to-read contact information.
In second place was Aloha Termite, Lihue, Hawaii, with a banner featuring a brightly colored floral graphic, an offer for a free estimate and company contact information. Xtermco of Waipahu, Hawaii earned third-place honors; and Chemi-Pure of Honolulu, Hawaii, fourth place.
Participating fumigation and pest management companies submitted photos of their banners for judging by a panel of professional communications specialists. Criteria included readability from a distance, professional image, visual impact and overall attractiveness. Pest control companies with winning banners were awarded prizes in the following amounts: first place, $500; second place, $300; and third place, $100.
"We are pleased to sponsor HPCA's banner contest," says Heather Kern, commercial leader for Douglas Products, manufacturer of Vikane. "Structural fumigation is a very important service in Hawaii, and job site banners help companies reach homeowners."