Bird Barrier America unveiled its new website, which showcases additional resources and user-friendly features, the company says in a news release.
Bird Barrier manufacturers and supplies solutions to humanely deter pest birds. Its product line includes StealthNet, Bird-Flite, Dura-Spike, Optical Gel, Bird-Shock Flex-Track, Eagle Eye and Daddi Long Legs, among others.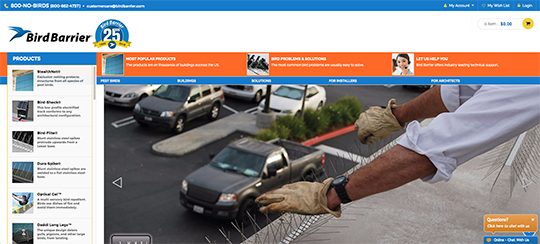 New website features include:
New design, including brighter text and graphics.
Mobile-friendly functionality.
More ways to contact the company, including direct text, as well as local certified installer recommendations.
Additional payment methods for established customers.
20 most common pest bird problems and suggested solutions.
Installation videos.
Bird species reference solutions, including tutorials on identification, nesting/breeding patterns, damage implications, deterrents and control solutions.
Capabilities to search solutions by building type.
Company news and success stories.
Specifications and installation instructions, including marketing tips and technical resources.