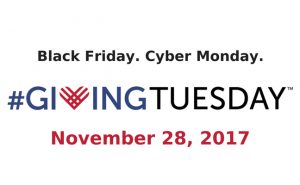 Some Americans may consider last Thursday simply the precursor to the holiday shopping season. I hope you and yours didn't fall into that retail trap. While it's perfectly fine to have enjoyed the shopping frenzy of Black Friday, Small Business Saturday and Cyber Monday after Thanksgiving, today is a "holiday" that is closer to the giving side of the season: #GivingTuesday.
Launched in 2012 by Manhattan's 92nd Street Y and the United Nations Foundation in response to the commercialization and consumerism of the holidays, last year's #GivingTuesday "broke a record with $168 million in charitable donations worldwide, topping the 2015 total by 44 percent." While it still has a way to go in being a household name concept, #GivingTuesday doesn't care what cause you support, as long as you support one.
If you and/or your company are thinking about contributing, but cannot decide how to move forward, the National Pest Management Association (NPMA) would gladly help you along. In a message this morning to members, it points out:

The work that you do every day makes the future brighter for people across the country and around the globe. Your work helps to protect structures from costly termite damage (estimated at $5 billion each year in the U.S. alone), defends our food supply from contamination and adulteration, provides peace of mind for families and businesses, and protects the public from the health threats posed by disease causing and pathogen carrying pests. For that, we thank you.

The Pest Management Foundation is a charitable organization affiliated with the National Pest Management Association and has funded urban entomology research projects and student scholarships at for more than 30 years. The Pest Management Foundation is a 501 (c)(3) organization whose mission and purpose is to advance the pest management industry through education, research, and training. This year, the Foundation awarded over $100,000 in funding for research projects at Auburn University, Fordham University, University of California, Riverside, and UC, Davis. Projects include urban rodent and cockroach control, methods for predicting perimeter pest pressure, and high-tech rat tracking.
To learn more about making a tax-deductible donation to support the Foundation, visit NPMAPestWorld.org/foundation.
If you decide to participate in #GivingTuesday — industry-related or otherwise — we want to know! Drop us a line at pmpeditor@northcoastmedia.net. We are grateful to be a part of a generous industry, and wish everyone a peaceful, joyous season to close out the year.