The National Pest Management Association (NPMA) recently put out a news release about simple holiday pest-proofing tips, and encourages pest management professionals to share the knowledge. Agawam, Mass-based Braman Termite & Pest Elimination, for example, garnered local TV news coverage by offering expert advice: http://wwlp.com/2017/12/15/dont-let-pests-damage-your-christmas-decorations/
Inspect live greenery thoroughly. Spiders

, mites, moths and other pests love live greens such as trees, wreathes and garland. These types of decorations provide the perfect harborage for pests — and their eggs. Before bringing anything indoors, homeowners should shake all live greenery outside, and inspect all branches very carefully.

Unpack carefully. Boxes of decorations stored for long periods of time, especially those in attics, basements and garages can easily become infested. When bringing items out of storage, be sure to unpack boxes outside first, as insects and rodents

 can find their way into boxes kept in undisturbed areas throughout the year. Check items for signs of a potential problem like gnaw marks and rodent droppings, and be sure to discard anything questionable.

Store properly. To save time, money, and energy next holiday season, give yourself a head start on proper decoration storage to mitigate the chances of a future infestation. Use sturdy, hard plastic containers with secure lids. An airtight seal will preserve decorations and protect against insects and rodents.
Store wood smartly. Firewood should be thoroughly inspected before being brought in the home, as pests like spiders, termites

, and ants can easily hitch a ride on logs. When storing firewood for future use, be sure to keep piles at least 20 ft. from the home on a raised structure such as concrete blocks to prevent pests from easily crawling into woodpiles.
For more, check out this graphic NPMA created for the holiday season: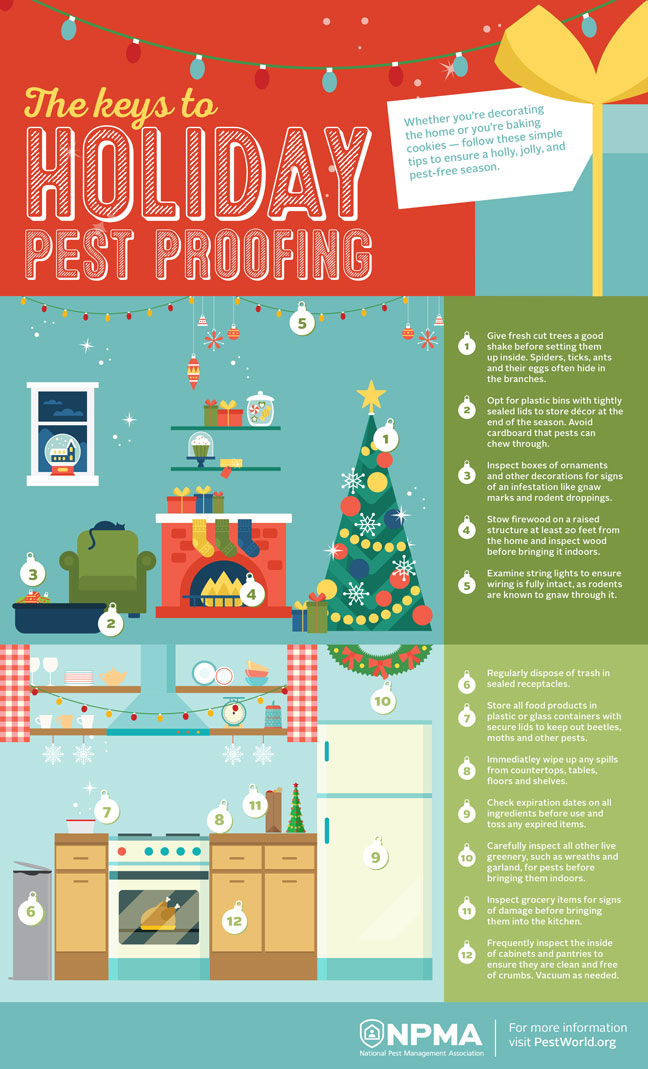 Have you been helping customers prepare for the holidays, too? Share your stories below, or email us at pmpeditor@northcoastmedia.net.