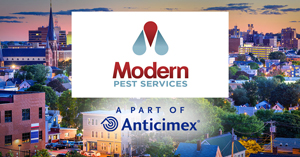 Brunswick, Maine-based Modern Pest Services, an Anticimex company, has acquired PestRx. Terms were not disclosed, but PestRx will continue to operate from its service center in Northford, Conn. PestRx was founded in 2004 and is an award-winning provider of residential and commercial pest control services in Connecticut.
"After an exhaustive search for a new partnership, we finally found a company that mirrors our culture of high-caliber customer service and value offerings through innovative technology," says Anthony Giovanni, co-owner of PestRx. "Modern's dedication to these values has made it a landmark company in New England, and we are pleased to have our family join theirs."
"The partnership with Anthony and his team at Pest Rx expands Modern Pest Services into Connecticut, while maintaining the incredible level of service that PestRx has been offering to customers for many years," says Scott Stevenson, president of Modern Pest Services.