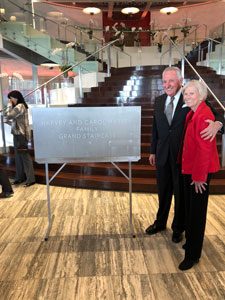 With his wife, Carol, PMP Hall of Famer Harvey Massey has given a $3 million gift toward the construction of the second phase of the Dr. Phillips Center for the Performing Arts in Orlando, Fla. The gift is the couple's third donation to the arts center, and brings their total contribution to $5 million since 2009.
To commemorate the gift, the arts center's staircase will be named the "Harvey and Carol Massey Family Grand Staircase."
"We are very pleased and proud to provide this gift to the arts center," says Massey, Chairman and CEO of Orlando-based Massey Services. "The arts center is significant to us for several reasons, but most importantly is the educational component it will have on our children."
The $3 million gift is the single largest gift ever donated by the Harvey and Carol Massey Foundation, and helps close a financial gap in what the arts center must raise to complete construction of its Phase 2. Already underway and expected to open in 2020, Phase 2 includes Steinmetz Hall, a 1,700-seat, multi-form acoustical theater, and The Green Room, a contemporary space for artists to hone their craft, record music and perform for smaller, more intimate audiences.
"We couldn't be more grateful to Harvey, Carol and the whole Massey family," says Dr. Phillips Center President and CEO Kathy Ramsberger. "We are a stronger organization thanks to Carol's leadership on our board and Harvey's unwavering support over the years. Our whole community is lucky to have the Masseys."
The arts center used the announcement to kick off the final leg of its capital campaign. Ramsberger says that with the $3 million Massey donation and several additional gifts received over the holidays, the Dr. Phillips Center is now within $10 million of its goal.
Projected total costs for Phase 2 of the arts center are $237 million, including $66 million from philanthropic donations; the total cost of the arts center is expected to be $604 million.