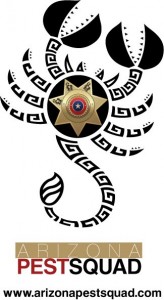 Phoenix-based Arizona Pest Squad has been announced as a finalist for an ethics award. The Better Business Bureau serving Central, Northern and Western Arizona (BBB) announced it as among the 15 Arizona companies selected as finalists for the 2018 BBB Torch Awards for Ethics, sponsored by Desert Financial Credit Union. Five of the 15 finalists will be named winners during the awards dinner and ceremony Tuesday, May 15, 2018 at the Arizona Biltmore. International speaker, author and business growth guru Cameron Herold will deliver the keynote address during the May 15 awards dinner. TV and radio personality Pat McMahon, along with media personality Catherine Anaya, will serve as masters of ceremonies.
"Arizona businesses have supported and advanced BBB's vision of creating a marketplace where buyers and sellers can trust each other for 80 years now," says Matthew Fehling, BBB president and CEO. The Torch Award program began in 2002.
"We adopted a strict code of ethics as one of our founding principles, and we partnered with the BBB before we opened in fall 2011 for support on putting this into practice," says David Marshall, co-Founder and CEO of Arizona Pest Squad. "We believe this has helped us experience rapid growth and build trusted relationships with our customers, vendors, employee, regulators and our peers. We are honored to be recognized by the BBB as a 2018 Torch Award for Ethics finalist among thousands of nominees."
Arizona Pest Squad is a minority family-owned and -operated pest management business led by Marshall and his wife, Amy Bobbitt. Marshall drew on his marketing and sales experience in Chicago, New York and Los Angeles to create the business model that has driven the success of Arizona Pest Squad.