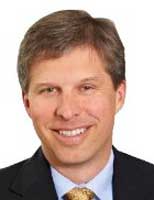 Environmental Pest Service (EPS), a Tampa, Fla.-based provider of sustainable solutions for termite and pest control, and lawn care services in the Southeast, has hired seasoned executive Shawn Lucht as CEO. He brings more than 25 years of experience working with customer-facing organizations such as ADT and Brink's Home Security.
"Shawn has a proven track record of growing organizations by improving the customer experience and implementing best practices for operational efficiencies," says George Pickhardt, chairman of the board for EPS. "We're thrilled to welcome him to the team and are confident that he will continue leading our organization to become one of the best and largest termite and pest control, and lawn care companies in the U.S."
Prior to joining EPS, Lucht served as the senior vice president, sales and store operations for Champion Home Exteriors, a company with more than 60 locations in 35 states. During his tenure, he spearheaded the restructuring of the field leadership team and helped the company grow the bottom line through sales enhancements and cost reductions.
He also served as chief customer officer and senior vice president of operations for ADT Security Services. There, he managed customer-facing environments, including the call center, customer portal and field technicians for the $3 billion business. During his tenure, he led the operations team in the multi-year spinoff from Tyco International and effectively managed the restructuring of ADT's residential business units.
Lucht began his career with Brink's Home Security, where he worked his way up to executive vice president of operations. He received both his bachelor degree in finance and master of business administration degree from the University of Texas at Arlington. He is also a graduate of the Tuck Executive Program at Dartmouth College.
"I'm excited to take my experience and help EPS grow, both organically and through continued mergers and acquisitions," says Lucht. "I plan on building upon EPS' already stellar employee engagement and growing the organization through customer advocacy. When your customers are so happy that they can't help but tell all of their friends and family about you, then you know that you're doing something right."
Since 2010, EPS has acquired more than 80 companies. The organization's growth strategy is based on expanding through mergers and acquisitions, while also fostering organic growth by maintaining high levels of customer service and employee retention.