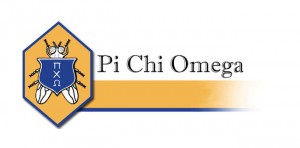 Four students have been selected as recipients of a total of $9,000 in scholarships from Pi Chi Omega, the national fraternity for pest management professionals. This year marks 42 years of supporting undergraduate or graduate students pursuing degrees in urban and industrial pest management. Since 1976, Pi Chi Omega has distributed more than $150,000 to up-and-coming entomologists, chemists and related scientists.
New in 2018 is the Alain VanRyckeghem Memorial Scholarship, established just four months after VanRyckeghem's passing in November. This $2,000 scholarship is available in perpetuity, based on the collected contribution of $50,000 to the Pi Chi Omega Scholarship Fund. Established to honor VanRyckeghem's passion for science, education and entomology, the Fund was created by generous contributions from Insects Limited, VanRyckeghem's family, friends and colleagues. The inaugural recipient of the Alain VanRyckeghem Memorial Scholarship is Johnalyn Gordon. She is a master's student under Dr. Thomas Chouvenc at the University of Florida, where her research currently deals with the hybrid of two damaging, invasive termite species in South Florida: the Formosan subterranean termite (Coptotermes formosanus) and the Asian subterranean termite (C. gestroi). These species have been introduced to southeastern Florida, making this one of only three regions in the world where invasive populations of these species overlap.
The recipient of the $2,000 Dr. Austin Frishman Scholarship, Patryk Tomaszliewcz, is the only undergraduate student to receive a Pi Chi Omega Scholarship this year. Tomaszliewcz is a senior double-majoring in medicine and entomology at Texas A&M University. With high aspirations of applying his personal values of inclusion to his ultimate goal of being a doctor, he has discovered a real passion for entomology and is studying entomology-based arbovirus research. Pi Chi Omega is actively seeking donations to the Scholarship Fund in Dr. Frishman's name. In October 2017, the Pi Chi Omega membership voted to create the Austin Frishman perpetual scholarship. If the total amount contributed reaches $50,000 by the end of 2018, this scholarship amount will be increased to $3,000 per year.
Fabian List is the 2018 recipient of the $2,000 Founder's Endowment Scholarship. List is a doctoral student under Dr. Ed Vargo at Texas A&M. He came to the United States from Germany for his Ph.D. for the research opportunities and established entomology facilities. His current research is centered on the invasive tawny crazy ant (Nylanderia fulva), including possible RNA interference (RNAi) constructs with potential for effective long-term treatment against colonies.
The final Pi Chi Omega scholarship award of $3,000 — the Dr. John V. Osmun Scholarship — is awarded to Joanie King, a doctoral student in Dr. Vargo's lab at Texas A&M. King's primary research focus is on investigating the interactions and biology of red imported fire ants and phorid fly parasitoids. Phorid parasitoids help suppress fire ant populations. Research on how these phorid parasitoids manipulate their hosts will lead to a better understanding of how they naturally control fire ant populations.
For more information about the 2018 Pi Chi Omega Scholarships, or to make a contribution to the Scholarship Fund, please contact Andrea Coron, Pi Chi Omega Executive Director, at office@pichiomega.org or 540/374-3617.