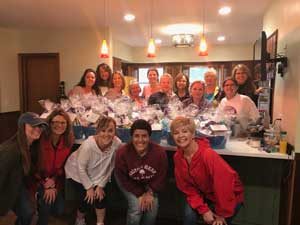 P.E.S.T. Relief International joined forces with the industry for a Valentine's Day Initiative to show women who are recovering from addiction that they are important and valued.
Winter was in full bloom, and temperatures were low, but P.E.S.T. (Professionals Empowering, Sustaining & Transforming) Relief International's team of volunteers brought a lot of love and warmed the hearts of all the ladies and their children at Abba House, a recovery home for women based in Cumming, Ga.
"A team of pest control experts, including one who came from all the way from Virginia for this REST Initiative, performed exclusion repair for the rodent problem and made some much-needed repairs to a screened door," notes Andrea Hancock, founder of P.E.S.T. Relief International and vice president of Mattress Safe Inc. "In addition to showing expertise and leadership in the pest control field, interiors were improved and updated."
Under the guidance of interior designer Elaine Loftus, the team beautified two bedrooms with new bedding, comforters and pillows. Two of the bathrooms were also decorated with new shower curtains, bathmats and accessories. A community room with a new coat of paint was brightened up where program residents can host visiting family members.
Upon completing the "heavy lifting," P.E.S.T. Relief International distributed 20 gift baskets filled with goodies with individual notes of encouragement to the residents and staff. Hancock offers a special "Thank You" to volunteers and donors who made this day such a success, including:
Joe Maxwell – Your Choice Wildlife
Eric and Anita Shaw – A&E Pest Control
Geoff Ells and Andrew Spychalla – Xceptional Wildlife Removal
Paige Kauffman – Focus Pest Management/FPM Services
Glenda Lehmberg – CPCO of Georgia
Elaine Loftus – Interior Designer
Caroline Connell and Perimeter Church Ladies Group
Mike Goldstein – Woodstream
Ann Caracolas – Todol Products Inc.
Paul Bonn – GMT Inc.
Rachael Williams – BB&T
Stephanie Johnson – Steph's Spot
TEAM UNIVAR (Kim Floyd, Julie Fogg, Deborah Chambers, Kandice Garner, Dianne Cornwell and William Whitfield)