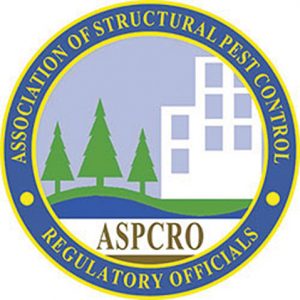 The goal of the Association of Structural Pest Control Regulatory Officials (ASPCRO) is to protect the health and welfare of the citizens of each state through the fair and effective regulation of the professional pest management industry, which is vital in both public health and economic significance. Recent activities of note include:
⦁ Fumigation workshop. In July, ASPCRO and the National Pest Management Association (NPMA) jointly conducted a Port Fumigation Workshop in Wilmington, Del., for U.S. Environmental Protection Agency (EPA) officials. The training event, which took place at both the Royal Pest Solutions (RPS) corporate office and at the Port of Wilmington, primarily focused on the commodity fumigation practices of produce imported into the United States, as well as the economic importance of fumigation to protect the food supply. The workshop provided a hands-on display of the products and types of activities that the EPA staff considers when going through the registration review process for fumigant products. The event included classroom education on different types of fumigants, followed by comprehensive in-the-field experiences.
⦁ Label clarification. ASPCRO continues to work toward clarification on label language, with consistency among labels using EPA-mandated language. The EPA is developing and supporting a Label Matching Application technology that is currently going through beta testing. ASPCRO's Public Health Committee, along with the Industry Relation Workgroup of the Association of American Pesticide Control Officials (AAPCO), continues to work on issues related to 25(b) products. The groups are addressing, among other things, consistent standards for label claims and efficacy data.
⦁ Certification rule. In December 2017, new EPA Revised Certification Standards for Pesticide Applicators went into effect. As state lead agencies continue to work to implement these new standards, ASPCRO has developed a Pesticide Applicator Certification Rule Workgroup to address any challenges and concerns that arise during the process.
⦁ Annual conference. ASPCRO's 62nd Annual Conference took place Aug. 20-24, 2018, in San Antonio, Texas. Agenda activities included the annual meeting of the board of directors, standing committee meetings, and sessions focusing on a wide range of pesticide-related topics, including pesticide resistance management and modes of actions; biology and treatment technology on termites and other structural pests; the U.S. Armed Forces and handling pesticides; and the aftermath of Hurricane Harvey.
⦁ Board nominations. ASPCRO currently is seeking nominations for two structural pesticide regulatory officials who are interested in serving on the board of directors for 2018-2020 as at-large members. The nominations committee will review candidate applications, after which the slate of nominees will be sent to the full membership for vote prior to the 2018 annual meeting. The board of directors will then be presented during ASPCRO's annual report to the members on Aug. 23, 2018.