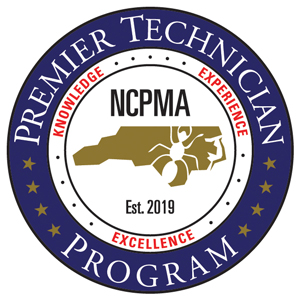 The North Carolina Pest Management Association (NCPMA) launched the Premier Technician Program.
The new program consists of hands-on training for pest management professionals (PMPs). Over 18 months, participants will complete eight courses designed to improve their understanding of pest infestations from discovery to treatment, according to the association.
"The NCPMA is dedicated to encouraging our members, providing one-of-a-kind training opportunities, and promoting what is happening in the industry to the public. Which is why we are so excited to announce the development of the Premier Technician Program for our members," said Marie Horner, ACE, NCPMA board member. "We have realized that recruiting is just half the battle. In order to retain top talent, we need to invest time and training in their career development. This program will fill that niche in a format that is conducive to learning and retaining the information."
Participants must be with NCPMA-member company. A maximum of 20 participants are allotted for each course and there is currently no limit of attendees per company, according to the association. The 8-hour courses will be taught by industry professionals and educators. Patricia Alder, NC State University entomologist, and Maria Miller with Univar, will be presenting at the first courses in fall 2019.
The program will include the following courses:
Cockroaches,
Ants,
Flying insects,
Bed bugs,
Rodents,
Occasional invaders,
Stored product pests,
Wood-destroying organisms, and
Wood-destroying insect report accreditation.
Upcoming courses
The first courses for the program will be offered fall 2019. All registrations must be received by Oct. 15, 2019. The majority of the courses will be held at the NC State University Structural Pest Management Training & Research Facility in Raleigh, N.C.
Nov. 5 – Ant Behavior: How and Why Ants Do What They Do
Nov. 6 – Mouse vs. Rat: The R Factor Commensal Rodent 101
At the end of each course, the attending PMPs will receive a certificate. To earn the Premier Technician designation, all eight courses must be completed. All Premier Technicians will receive a listing on the NCPMA website, a logo for use on business cards, and a uniform patch or pin. To maintain the Premier Technician designation, PMPs must continue to take at least one 8-hour course every two years.
The program is made possible with contributions from BASF, Bayer, Bell Laboratories, Corteva Agriscience, FMC and Syngenta.

Danielle Pesta is the digital editor for
PMP
magazine. She can be reached at
dpesta@northcoastmedia.net
or 216-363-7928.