Product manufacturers share what's new — and their forecasts for 2019-2025.
We spoke with nine industry suppliers about their strategies and products to assist pest management professionals (PMPs) at rodent accounts. Read on for their insights and announcements. We also want to know what rodent management methods you're implementing, and what you hope to add in the near future. Drop us a line at pmpeditor@northcoastmedia.net.

Patrick Lynch, ACE
VP and General Manager
RECENT INNOVATION: Bell Labs is pleased to introduce its new iQ product line, powered by Bell Sensing Technologies. Bell's Express iQ bait station tray, T-REX iQ rat snap trap and 24/7 iQ multi-catch are now available with fully integrated sensors, batteries and antennas. The sensors collect timestamps of rodent activity and communicate via Bluetooth technology to the Bell Sensing mobile app, when technicians are on-site performing their pest control service. Our new mobile app communicates rodent activity to the cloud, allowing PMPs to analyze the amount of rodent activity at each account by date and device. iQ products help technicians do their jobs better. Now they can use their time more effectively at their accounts, focusing on solving rodent problems instead of simply checking bait stations and traps.
Watch a video about Bell Sensing Technologies here.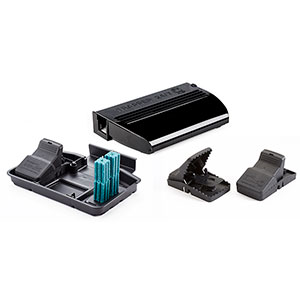 PREDICTIONS: Data has become valuable in all service industries, and we predict rodent control will be no different. Increased expertise and specialization, which only can be gained by increased knowledge, have the potential to ensure that the perception of the pest control industry always is viewed as highly technical and professional. Pest control is a tightly regulated industry that already focuses deeply on science and education. The use of technology only will increase the reliance on data for sound decision-making. PMPs who embrace the use of technology and the data gathered not only will be able to keep their existing accounts, but grow their market share in an ever-increasing, competitive marketplace.

Ken Arai
International Sales Manager
RECENT INNOVATION: Since 1962, we have specialized in sealing brushes for doors and roller shutters. Our expertise and state-of-the art designs, technologies and skills led to the development of Burrat Samurai Armor Door Sweeps to prevent the intrusion of rodents and insects through gaps under doors. The stainless steel frame and brush do not allow them to come inside. Installation is easy, and the company guarantees the product. Remember, if a pen can fit through a door sweep, so can a mouse.
PREDICTIONS: We predict rodent control devices are going to become more high-tech in a number of areas — video, online identification, sensor systems, etc. — thanks to the ongoing implementation of the 5G network. However, there still will be a need to also use low-tech professional tools, including door sweeps.
Burrtec will continue its focus on easy-to-install, aesthetically pleasing and durable products to help PMPs succeed at their rodent and crawling insect accounts.



Chris Ernst
Brand Strategy Director
RECENT INNOVATION: With today's ever-evolving world of customer requirements, it always makes sense to have non-toxic options in your toolbox. The new Catchmaster Dual Action Twin Catch is a multi-catch trap that will allow you to trap for rodents and monitor for insects at the same time, without rodents contacting the glue board. With a raised roof, our Dual Action Twin Catch can accommodate two of our 605P Easy Set snap traps. In addition, our 72TC glue board can be folded and placed into the trap. Our 72TC board is compatible with attractants like our 701 Roach Lure tab and 851-10 Clothes Moth attractant. The result is the ability to monitor for insects while simultaneously trapping for rodents in the same trap. This makes the trap ideal for sensitive accounts seeking non-toxic pest management solutions. We will aim to continue to build out our rodent product line with additional mechanical traps. Knowing that no customer and job is ever the same, our goal as a brand is to provide a full arsenal of non-toxic rodent solutions to provide flexibility for PMPs in the field.
Watch a video about the Catchmaster Dual Action Twin Catch here.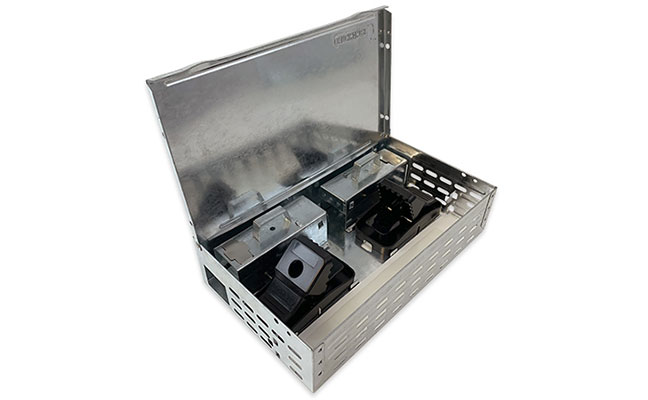 PREDICTIONS: We see the regulatory environment as the big unknown for the future of rodent control. While California AB 1788 recently died during the 2019 legislative session, the bill itself is older and has the potential to be revisited. Eliminating a rodent control tool like second-generation anticoagulants would drastically alter industry protocols and price structures — while being unlikely to impact customer expectations. Regulatory issues aside, we see the future of rodent control as continuing to be affected by best integrated pest management (IPM) practices. We believe PMPs who focus on exclusion and monitoring as part of their rodent control plan will continue to raise the bar high for customer satisfaction, and thereby differentiate themselves competitively.

Ben Schreiber
ActiveSense Category Lead
RECENT INNOVATION: This fall, we launched the latest electronic remote monitoring advancement in the ActiveSense system: the AIR1 sensor. Built from the ground up, the AIR1 sensor is designed specifically for pest management. This highly accurate, active infrared sensor monitors rodent activity while performing in extreme environments. With a battery life of more than four years, the sensor is dustproof, waterproof (IP67-rated) and temperature resistant (-40°F to 180°F). The AIR1 sensor integrates into virtually all multi-catch rodent traps, and provides real-time updates to the ActiveSense mobile app and web portal. Other rodent applications in development include snap traps, clamshell traps, bait stations and pest runways. ActiveSense offers 24/7 monitoring in virtually any environment or application — in high-traffic zones, in drop ceilings, under shelving or racking, and with countless other challenging spaces.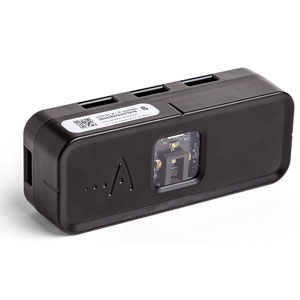 Additionally, you can configure building maps within the ActiveSense app and monitor for pests around the clock, right from your mobile device. Installation is quick and easy, thanks to smart hardware design and an intuitive native mobile app. Technicians can activate sensors with just the tap of their smartphones. The technician can use any platform on any device to access the precise data and insights needed to improve workflow and increase productivity and efficiency. PMPs have shared that the ActiveSense AIR1 sensor has far exceeded their expectations, and customers see the value of around-the-clock monitoring of their facilities. ActiveSense allows technicians to know about a pest before the customer even knows there is a problem.
Watch a video about Corteva's ActiveSense AIR1 sensor here.
PREDICTIONS: Technology will continue to advance the pest management industry by making common practices more efficient, more predictive and easier to complete. We believe remote monitoring is destined to become an industry standard practice. We have PMPs who began experimenting with remote monitoring more than seven years ago and are now using ActiveSense. Customers really love it, and many of our PMPs are realizing how the technology can add value to their business.

James Rodriguez, ACE
Technical Director
RECENT INNOVATION: The rodent control industry is changing, and we've amped up our efforts to provide quality products at a reasonable price. With anticoagulants in the spotlight, the Healthy Schools Act focusing on prevention with target applications, and endangered species awareness on the rise, J.T. Eaton recently developed two professional-grade products in response:
The Repeater Rock (pictured) is an exterior multi-catch mouse station that doesn't require any bait and is aesthetically pleasing. This station can double as an insect granular bait station, since the interior of the device is protected from the elements, thus prolonging the life of granular baits. It also gives PMPs the ability to trap multiple mice.
The Jawz Depot conceals most of the rat or mouse, avoiding "eye contact" with the deceased animal. It removes the worry of blood possibly staining floors if used indoors. Its design allows the technician to see when the trap is set with just a glance. When red is showing on the device, the trap is set. It also allows for quick and easy disposal, without coming in contact with the rodent.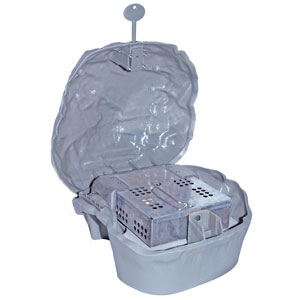 Currently, J.T. Eaton is developing products with multiple uses, with an eye toward recurring income for PMPs. The industry is looking for more features in rodent devices, ones that provide value and won't break the bank. We're up to meeting that challenge in 2020, and plan to introduce a few more products by summer.
PREDICTIONS: Over the next five years, we see the industry gravitating toward improving methods of inspecting and sealing buildings against rodents, coupled with more intense training. We also see an increased need to improve rodent devices used in public settings, and the need for more devices that can be used safely around the homeless and other vulnerable populations. The threat of disease outbreaks will be casting a long shadow in our major cities, and PMPs will need training specific to these threats.

John Murphy
Technical Support Manager
RECENT INNOVATION: TakeDown is an acute soft bait rodenticide — and the first and only non-anticoagulant bromethalin soft bait. TakeDown can be used to treat heavy rodent infestations, including in commercial accounts. TakeDown assists PMPs with reducing heavy rodent populations and showing their customers effective results. Another benefit is that it can be used for dealing with anticoagulant-resistant rodent populations, or as part of a resistance rotation prevention program, as bromethalin is not an anticoagulant. With some states proposing deeper restrictions or all-out bans on second-generation anticoagulants, we are keeping the future in mind as we prepare to launch new products and new toxicant delivery systems. And it's not just products that will continue to evolve. PMPs also will have to provide rodent control programs amid new circumstances and an overall changing rodent control landscape. These new solutions will allow PMPs to remain effective, even if legislation or regulatory changes restrict some of the tools they are accustomed to using.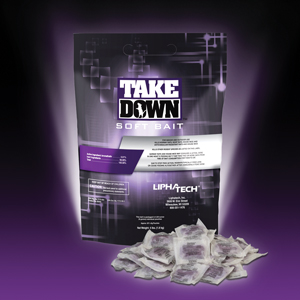 PREDICTIONS: Rodent control will not be getting easier. PMPs will have to embrace the challenge, make observations and solve problems. As the developer of three of the rodent control industry's active ingredients — chlorophacinone, bromadiolone and difethialone — Liphatech will continue to innovate. As the industry changes, we all need to keep pace with advances in science and technology. Industry trends, what PMPs tell us they need to do their jobs better, and legislative and regulatory events that are already influencing change in the industry, should be closely monitored. Our goal is to evolve with the industry, yet still provide PMPs with the tools they need to control rodents.

Andrej Branc
North American Business Manager
RECENT INNOVATION: PelGar introduced RodentStop two years ago as an innovative exclusion product geared specifically to PMPs. It is targeted toward the exclusion of rats and mice, but also works on cockroaches and other insects. As a truly green product, it contains no active ingredient or repellent, but instead relies on mode of action to keep rodents from coming back to the entrance hole because the substance itself (below the hardened surface) stays sticky and contains metal shards, which cut into their gums as they chew. It is the discomfort it causes rodents that keeps them from trying to chew through the hole, while at the same time the waterproof and self-healing nature of the product keep insects out as well.
This exclusion product sits alongside our established Brigand hot-cast wax blocks and lard-based soft bait. Brigand shortly will be changing to the new global livery design, but don't worry — there are no changes to the label content or instructions. We also have a new product in development based on a less-toxic, second-generation anticoagulant. Its lower toxicity profile means that it has a reduced risk of secondary toxicity to non-target animals, which is key in limiting rodenticide exposure.
Watch a video about RodentStop and PelGar's upcoming product here.
PREDICTIONS: With individual counties and now states looking to limit exposure to rodenticides, we anticipate development in three main areas of rodent control: green product innovations, improved exclusion methods, and a better understanding of bait placement for quick and effective control of rodent populations with minimal impact on non-target species.

Noel McCarthy
Sterifab.com Staff Writer
RECENT INNOVATION: It's never a good thing when your customers discover they have rodents in their home, office, retail space, or restaurant, to name but a few regular targets. Apart from having to deal with the aftermath of a mice or rat infestation — food boxes in pantries broken open, electrical wires chewed through, rat and mice droppings everywhere, and the nasty smells these pests bring with them — there are other, equally serious problems with which to contend. Rodents not only bring with them other pests, such as fleas and ticks, but they also are a health threat. They have been directly linked to hantavirus pulmonary syndrome, viral hemorrhagic fevers (including Lassa fever), and lymphocytic choriomeningitis (LCM), as well as plague, rat-bite fever, salmonellosis and South American arenaviruses.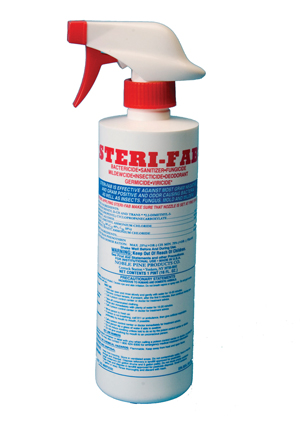 However, even though you've eradicated these pesky rodents, various microorganisms and bacteria will remain, and they must be eliminated quickly. We suggest you grab a bottle of Sterifab at this point, because it is highly effective as both an insecticide and a disinfectant. Not only will it kill all the insects rodents generally bring with them, but also will eliminate pathogens, bacteria and germs. It's completely non-residual, and considered to be the only disinfectant/insecticide registered by the U.S. Environmental Protection Agency (EPA) that is able to effectively attack these targets.
PREDICTIONS: With rodent-borne plague and other pest-transmitted diseases swirling regularly in the headlines, we believe public health concerns will continue to be of utmost importance to consumers. Because much of the public may not have heard of Sterifab, it's a golden opportunity for PMPs — protectors of public health — to explain its benefits and use it to contain and eliminate pests, germs and more.

Michael Goldstein
Sales Manager, Professional Products
RECENT INNOVATION: Woodstream, the manufacturer of the original Victor Tin Cat, now offers the new Mini Cat (item #M304S). The Victor Mini Cat is a smaller, more compact, heavy-duty multiple-catch mouse trap. The trap fits perfectly in tighter spots where a full-size trap may be too large, keeping the trap hidden and out of the way. Only Mini Cat has rubber feet to keep the trap stable and in place while in use. Mini Cat will catch up to 12 mice using its patented escape-proof mechanism, which requires no wind-up. The catch mechanism also is reinforced to provide reliable, long-term performance. Both the body and lid have hemmed smooth edges.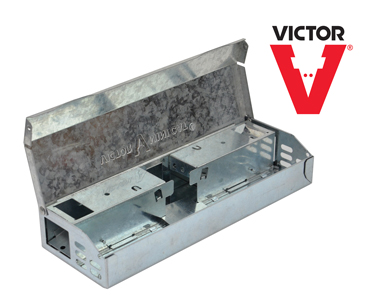 PREDICTIONS: In the next five years, there is no doubt that connected rodent control systems will be the growing technology and focus. It will definitely change the way PMPs conduct business and service accounts in the future. This new technology will allow PMPs to deliver 24/7 monitoring of their control devices in the facility, and deliver quick response and targeted corrective actions as needed. Value-added service also will be available now for inaccessible or hard-to-reach areas that are potential rodent activity hot spots. Other benefits to connected systems are the ability to collect data and build history, enabling PMPs to quickly identify trends and issues at accounts that need attention. Your service now becomes proactive, not reactive.
*FEATURED PHOTO: ISTOCK.COM/GLOBALP