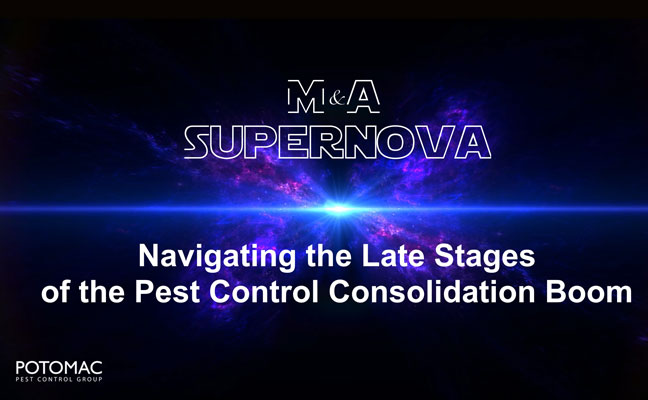 The Potomac Co., a San Juan, Puerto Rico-based mergers and acquisitions (M&A) advisory firm, is hosting a free pest control industry webinar that will be presented nine times the week of June 14, with variations per geographic region. Titled "M&A Supernova: Navigating the Late Stages of the Pest Control Consolidation Boom," the webinar will be presented by Managing Director Paul Giannamore. Each regional session will have a surprise guest speaker, including presidents and CEOs of some of the largest pest control companies in the world.
In each 90-minute, live presentation, Giannamore is set to discuss:
A historical perspective on pest control M&A and valuation by U.S. region.
How geography impacts valuation and exit opportunities.
How potential tax changes and U.S. fiscal policy will impact valuation for the remainder of 2021 and into 2022.
An inside track on what the largest acquirers in the world are thinking about valuation, and what it means for you now and the future.
Paul's seven most important lessons learned in his 20 years and billions of dollars in global pest control transactions.
What you need to do immediately if you intend to sell your business in 2021.
"Valuations for acquisition targets first peaked in 2019, only to see them skyrocket to new heights in late 2020 and early 2021 as a result of tremendous monetary and fiscal stimulus," Potomac's Patrick Baldwin, who is also a partner in a Waco, Texas-based 855bugs.com, noted in a news release. "In 2021, increasing federal debt levels, potential tax law changes and rising inflation may soon impact valuations across all industries, including pest control. Many owners are wondering what this will mean for their business. How does it affect valuation and exit opportunities? Senior executives and M&A directors of the largest pest control companies in the world will be joining Potomac to share their thoughts on M&A specific to your region."
Space is limited; learn more and register here.