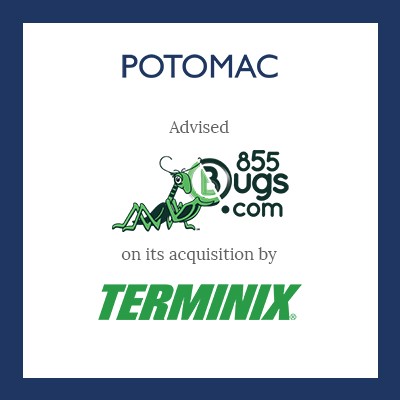 Memphis, Tenn.-based Terminix has acquired 855Bugs, based in Waco, Texas. Terms were not disclosed; Paul Giannamore and Franco Villanueva-Meyer of Potomac represented and acted as exclusive financial advisors to 855Bugs in this transaction.
The deal was actually filmed as part of the industry video podcast "The Boardroom Buzz." Patrick Baldwin, an 855Bugs partner, co-hosts the podcast with Giannamore.
"From the closing call to meetings with Terminix, to the employee dinner and announcement day, it's all on film," a Terminx news release explains. It is the opening episode (No. 59) for Season 2 of the podcast, and can be viewed online at ProjectBlackBear.com.
"We are thrilled to have this company and this team join our organization," Terminix CEO Brett Ponton said in the news release. "It goes without saying, but some of the things we're very attracted to are a great geographic footprint, great local leadership teams, and great businesses that have built great brands and reputations in the communities they serve. The 855Bugs team has done an exceptional job with this in and around Waco, and we're thrilled to have the brand and team as part of our organization."
855Bugs President Bob Howard noted in the news release, "I wanted a company and leadership that said, 'Hey, we want your brand to continue. We like everything about what is in place now, and we want all those things in the future. And as a matter of fact, we not only want that, but we want to provide the resources for the 855Bugs brand to grow.' That was critical for me, and at the end of the day, all the stars aligned. And for me personally — wow — I've come full circle and arrived right where I began my own career in pest management: with Terminix."