Just like "ABCs of Growth" co-columnist Dennis Jenkins notes in this issue, "by looking into how your company can give back to local groups and populations, you show real commitment to your community, and that is not something that very many other companies do." If community outreach has set your company apart from the rest — and raised your reputation among employees and customers as a result — please drop us a line at pmpeditor@northcoastmedia.net and let's continue the conversation.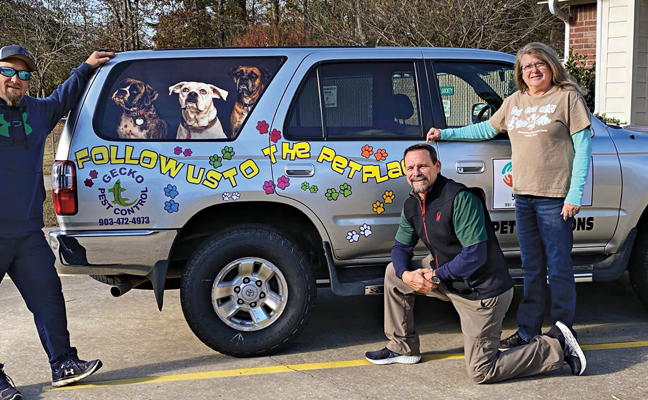 Last fall, Gecko Pest Control teamed with Sign Solutions of Marshall, Texas, to sponsor new graphics on the vehicle for The Pet Place, Harrison County Humane Society. The vehicle, which is a part of many community events as it educates the public about the concept of "adopt, don't shop" for pets, sports the Gecko Pest Control logo on its rear fender. Gecko Pest Control Owner Daren Horton, ACE, is pictured, center.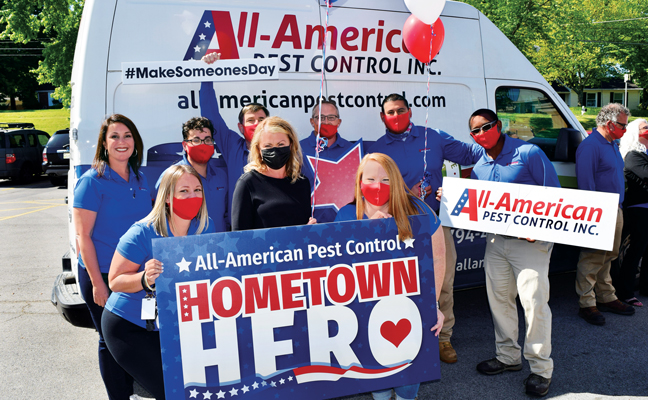 Nashville, Tenn.-based All-American Pest Control named Brandi Nunnery, a literacy coach at Crieve Hall Elementary School, as its 2021 Hometown Hero award recipient. Back row from left are All-American's Erin Richardson, Blake Matthews, Bert Dinkins, Brian Sheppard, Adrian Zavala and Andre Cannon. In the front row, Nunnery is flanked by All-American's Kayla Bodnovich and Hayli Burgess. She received a certificate for 10 years of free pest control, including ant, spider, tick and termite protection, mosquito reduction and yard treatment services.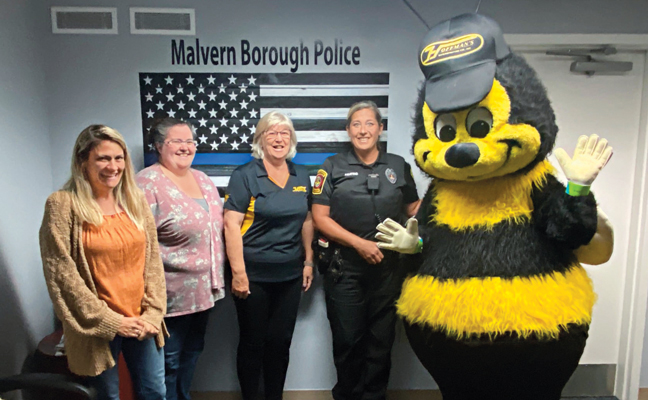 Before the July Fourth weekend, Hoffman's Exterminating mascot Bugsbee, along with members of the company's Malvern, Pa., branch, visited the Malvern Police Department. The team brought a sandwich tray from a local favorite, Primo Hoagies, to thank department members for their hard work and dedication.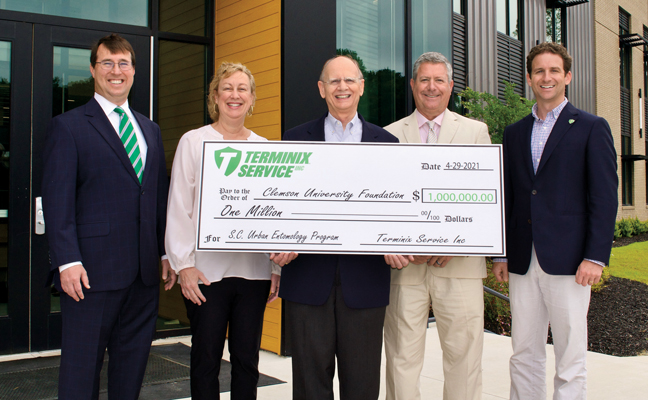 Columbia, S.C.-based Terminix Service recently gave a $1 million gift to launch the Urban Entomology Initiative at Clemson University. The endowment is in partnership with the South Carolina Urban Entomology Charitable Alliance and the South Carolina Pest Control Association, of which Terminix Service is a founding member. Pictured from left are Terminix Service's Rion Cobb, VP Human Services; Susan Douglas, VP Finance; Lex Knox, chairman and CEO; Scott Fortson, president; and Trevor Knox, VP Sales and Marketing.