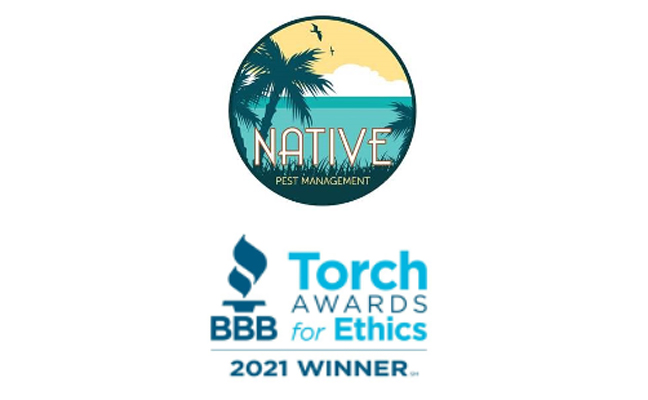 The Better Business Bureau serving South Florida and the Caribbean named West Palm Beach, Fla.-based Native Pest Management the Torch Award for Ethics winner.
Since 1998, this award has recognized local companies with an exceptional commitment to ethical business practices. The Torch Award for Ethics is designed to promote the importance of building trust, and the willingness and efforts made by outstanding businesses to help contribute to an honorable marketplace.
"From our hiring process to answering the phones, Native Pest Management ensures we are implementing a strong work ethic and exceeding our customers' expectations at every moment possible," Luke Lewis, CEO and president at Native Pest Management, said. "We treat our customers like our family and plan to serve our local community for many years to come."
Native Pest Management contributes to an ethical and outstanding business every day. This is achieved by using the company's core values as a guiding principle for every decision or action made. It starts with the president of the company setting the example then implementing the core values across the entire team.
The core values of Native Pest Management are Timeliness, Respect, Integrity, Purpose and Service, which have been condensed into the acronym T.R.I.P.S.
An example of a Native Pest Management upholding its core values would be when a team member follows up with clients after each service to ensure their pest issues have been resolved and arranging a follow-up treatment if needed, instead of waiting for clients to reach out. Doing so in a timely way demonstrates respect for the clients and builds trust through exceptional service.
About Native Pest Management
Since 2015, Native Pest Management has provided pet-safe and environmentally friendly pest control to resident in the South Florida area. As a family-owned business with deep roots in the local community, and as third-generation West Palm Beach natives, Native Pest Management team members are experts at identifying and preventing the many pest issues that are unique to the area.