Arizona Pest Control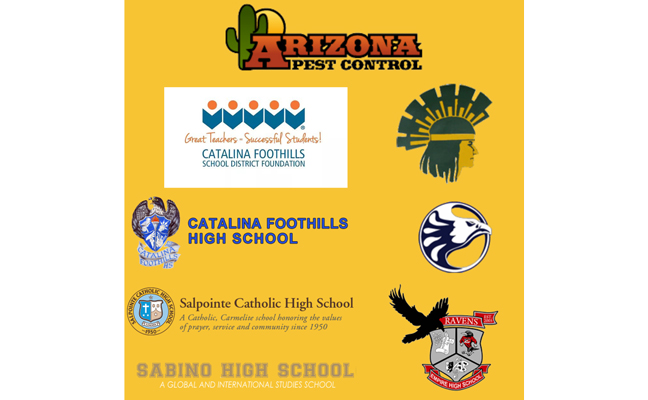 has committed to sponsoring high school football programs throughout Tucson, Ariz.
The sponsored football programs include Sabino High School, Ironwood Ridge High School, Catalina Foothills High School, Salpointe High School, Empire High School and Canyon del Oro High School.
Additionally, Arizona Pest Control made a $5,000 contribution to the Catalina Foothills School District Foundation.
Excellence in education is the key to having successful outcomes for our students and families, according to an Arizona Pest Control news release.
Arizona Pest Control is also interested in supporting additional after-school programs and initiatives.
Please email support requests to ctennenbaum@azpest.com for consideration or visit Arizona Pest Control's contact page.
About Arizona Pest Control
Arizona Pest Control has been a family-run business since 1947. The company provides environmentally responsible pest control to commercial and residential customers. Bruce Tennenbaum is the current owner and CEO of Arizona Pest Control and started with the company in 1978. Currently, Arizona Pest Control employees over 45 people.
About Catalina Foothills School District Foundation
Founded in 1983, the Catalina Foothills School District Foundation is an independent, 501c3, non-profit organization that provides support to the Catalina Foothills School District 16. The foundation's original focus was teacher-initiated projects in the classroom, such as library books, math materials, telescopes, drama and fine arts equipment. Since 1998, the foundation has focus on raising critical resources for teaching positions and other academic programs.