The North Carolina Pest Control Association kicked off the 72nd Annual Pest Control Technician's (PCT) School at the Sheraton Imperial Hotel and Conference Center in Durham, N.C., from Jan. 25-27.
"This year, we are especially grateful to be together in-person to enjoy this event as an industry and as an association," said NCPMA President Marty Roberts.
The event kicked off with a keynote speech from N.C. Lieutenant Governor Mark Robinson, presentations of NCPMA's Technician of the Year Administrative Professional of the Year awards and the awarding of a scholarship to a North Carolina State University entomology student.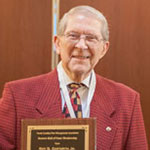 In other news, it was reported that longtime NCPMA supporter R.B. Goforth Jr. passed away Jan. 27 at the age of 87. Memorial contributions may be made to The Kiwanis International Endowment at 3636 Woodview Trace, Indianapolis, IN 46268-3196.
NCPMA President Marty Roberts told Pest Management Professional, "NCPMA is saddened to learn of the recent passing of R.B. Goforth, Jr. R.B. was a leader and pioneer who helped shape the pest management industry in North Carolina, and he will be missed. We are proud that we were able to recognize his contributions to the industry in 2018 when we welcomed him into the NCPMA Hall of Fame."
About the NCPMA
Founded in 1952, the North Carolina Pest Management Association (NCPMA) is a trade association representing the professional pest management industry in the Tar Heel State. NCPMA promotes the continued cooperation, representation, education and success of all pest management professionals in North Carolina.