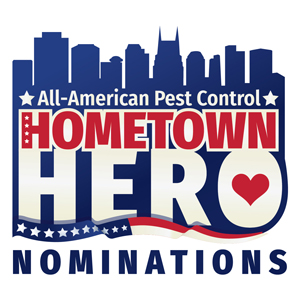 Nashville, Tenn.-based All-American Pest Control is now accepting nominations for its fourth annual Hometown Hero Award.
The locally owned and operated pest control company seeks to honor a local hero in Middle Tennessee by gifting him or her with 10 years of free pest control, mosquito reduction, termite protection and yard treatment services. New this year, there will be a cash prize awarded to the individual who submitted the winning nomination.
"At All-American Pest Control, we believe in celebrating all the good people in Middle Tennessee who keep our families, schools, churches and community safe and strong," said All-American Pest Control Owner and CEO Erin Richardson. "Those whose devotion to giving back to our communities are what make this such a great place to live, work and visit. We are thrilled to crown another Hometown Hero!"
Nominations are open until 8 p.m. on April 22 and can be submitted on the All-American Pest Control website for anyone residing in the following counties: Davidson, Williamson, Maury, Dickson, Rutherford, Wilson, Montgomery and Sumner.
The nominee should be someone who lives by All-American Pest Control's core values of reliability, remarkable service, teamwork, respect, thoughtful innovation and servant leadership. The winner will be announced in May.
The 2021 recipient of the Hometown Hero Award was awarded to Brandi Nunnery, a literary coach and educator at Crieve Hall Elementary. Principal Dr. Nate Miley nominated Nunnery for her selflessness in the way she pivoted during the pandemic. All-American Pest Control surprised Nunnery with the award at her school for Teacher Appreciation Week alongside her students and colleagues.