Franklin Pest Solutions will sponsor a student intern to help with the 32nd Bug Bowl event, as a way to continue its mission to empower more women to explore careers in science.
The Franklin Pest Solutions sponsorship allowed Bug Bowl to hire Meghan Jerke, a sophomore at Purdue University majoring in insect biology.
"I am so excited to be working on Bug Bowl," Jerke said. "It brings the Purdue entomology team and the larger community of bug-loving folks together."
Research from the U.S. Census Bureau shows that currently, only 27 percent of scientists in the U.S. are women.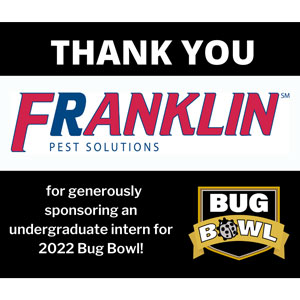 Bug Bowl is one of the largest insect festivals in the United States, according to Purdue entomologist Dr. Gwen Pearson. It is part of Purdue's Spring Fest weekend that will take place on April 9 from 10 a.m to 6 p.m. EST.
At Bug Bowl, Jerke will be responsible for facets of the 1,600 piece Insect Art Show. Each one of the K-12 artwork pieces submitted must be recorded, sorted, judged, hung and then returned to the original artist. Plus, Jerke will keep track of making sure the more than 100 Bug Bowl volunteers all complete training, get schedule reminders and have background checks.
The Bug Bowl draws fascinated fans of all ages who can participate in hands-on insect activities including the cricket spitting contest and an insect petting zoo.
About Franklin Pest Solutions, LLC
Since 1929, Franklin Pest Solutions and sister company Rose Pest Solutions have been trusted in the Midwest to keep homes and businesses free from insects, rodents, and more.  Using cutting-edge technology, environmentally friendly methods, and personalized unique solutions, Franklin and Rose are dedicated to creating and maintaining healthier living environments.  Owned by the Dold Family, Franklin Pest Solutions proudly serves communities in Indiana and Kentucky, and Rose Pest Solutions proudly serves all of Chicagoland, the Greater Milwaukee area, and South Central Wisconsin.