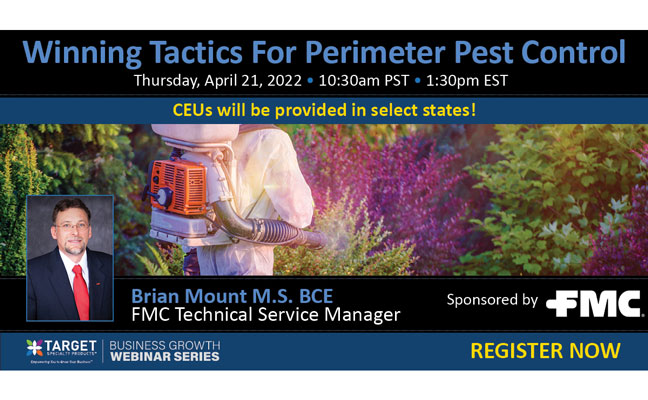 Target Specialty Products will host a webinar on April 21 at 1:30 p.m. Eastern called "Winning Tactics For Perimeter Pest Control."
This educational training webinar will discuss best tactics for perimeter pest control, including but not limited to, the inspection of the perimeter of a home, equipment calibration and how to identify perimeter pests.
The webinar will be hosted by Brian Mount, M.S., BCE, FMC's technical service manager.
Mount started in the pest control industry in 1995 in a management training program for a large pest control company, where he spent two years. He then became a sales and training manager for a smaller company where he spent three more years doing hands-on pest and termite work.
From 2000 to 2010, Mount worked for FMC in a technical service role. His varied experiences with FMC gave him an insight into the types of issues, both positive and negative, that pest professionals deal with every day. From 2006 to 2010, he became a field technical service representative for Western U.S. He was responsible for working with insecticides, herbicides and fungicides across all markets including structural pest, golf, turf and ornamental, and nursery greenhouse.
From 2011 to 2013, he took on the challenging role of turf market specialist in the state of Florida. This new role was a combination of the technical and sales role with responsibilities for both in the turf market. From 2014 to present, he has accepted the challenge of technical service manager for all insecticides nationwide.
About Target Specialty Products
With more than 80 years of experience, Target Specialty Products is a provider of pest control, vector,  and turf and ornamental solutions, with 44 locations across the United States and Canada.