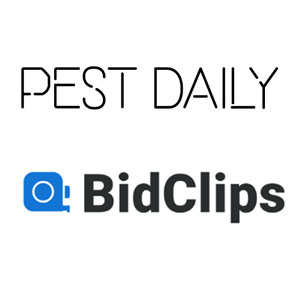 Pest Daily, an e-learning resource for the pest and wildlife control industries, announced its partnership with BidClips, a customer and sales manager software platform.
"The reason I decided to take this step is because out of all the software I've seen over the years – and trust me, there's been a lot – BidClips stands out by providing a true competitive advantage for pest control companies," said Pest Daily Founder and CEO Seth Garber. "The BidClips platform significantly speeds up the sales process by allowing owner/operators and CSRs to interact immediately with potential customers and give them all the information they need to make a fast purchasing decision."
By combining Pest Daily's sales systems with the technology of BidClips, users will be able to:
Learn sales best practices through an integrated coaching and training program
Communicate instantly with customers
Generate quotes with photos, videos and customizable prompts
Automatically follow up with prospects via text and email
Get paid faster through mobile payment options
BidClips CEO Austin Casey said in a news release that he is excited about the partnership and sees it as an opportunity to provide limitless value to pest control owner/operators and CSRs who are seeking to grow their businesses.
"At BidClips, we work tirelessly to create the best-in-class service experience for you and your customers," Casey said. "Our early successes in pest control make us excited to join Pest Daily and bring our great technology to the entire industry."
Garber said this collaboration is only the first step and is looking forward to continuing to work alongside BidClips to innovate in the future.
"We've got some pretty exciting plans in the works," Garber said. "And we're thrilled to partner with someone who shares our vision and standards for excellence."