Based in Southlake, Texas, Versacor is a family-owned business — but its origins aren't of the grandfather-to-father-to-son kind. Rather, in 1997, Jason Eicher made a mid-career change from working as an engineer in the nuclear power industry to joining his brother Eric as a branch manager at a company the latter was part-owner of, Steritech.
"I've never looked back," says Eicher. "By 2009, Eric and I decided to start our own company, Versacor — blending the words 'versatile' and 'core.' Our brother Bryan, who also had industry experience, joined us shortly thereafter. We've been in growth mode ever since."
FROM ZERO TO $10 MILLION
The brothers started the company from scratch, but with a 10-year plan and a goal of generating $10 million in annual revenue by 2019. Their goal was met handily, Eicher says, because they dedicated a lot of planning and resources to reach it. Today, Eicher serves as president, while Bryan, Eric and eldest brother Jeff are retired and serve in advisory roles.
"We take a somewhat pragmatic approach to growth," Eicher explains. "These days, we target a 15 percent to 20 percent annual growth rate, and work backward to determine how many sales people we need company-wide to achieve that growth. We then factor in both growth and desired service productivity levels by branch, and project that out three or four years to determine our exact needs by market. This way, we are growing the company and maximizing productivity at the same time." He says they develop and review these plans with their management teams on a regular basis.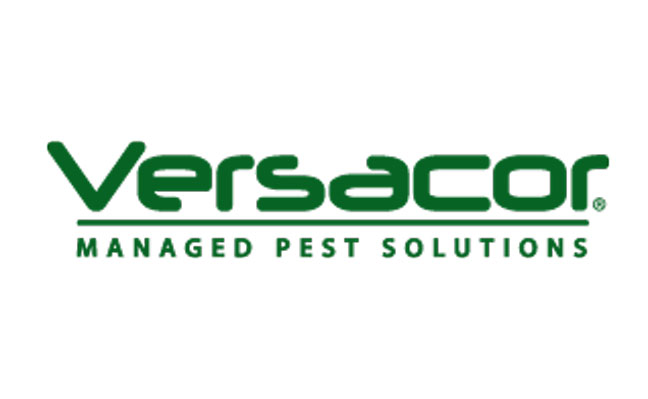 Because Versacor is comprised of 100 percent commercial accounts, and mainly in the premium commercial market verticals — retail, hospitality, foodservice, healthcare, among others — the company markets itself a little differently.
"Virtually all of our sales still occur in face-to-face meetings," Eicher points out. "While we maintain company social media profiles, we spend more of our marketing efforts networking as allied members of the various client industry associations."
For example, he says, Versacor is a title sponsor of dozens of events each year for various clients, to strengthen relationships and enhance brand awareness.
LOOKING AHEAD
Eicher says Versacor is proud to be a regional company, growing across Texas and into Oklahoma, Louisiana, Arkansas, Missouri and Kansas. Goals are in place to continue to strengthen individual branches and expand into
new markets.
"Building and developing our middle management team is a priority as we move forward," he points out.
Eicher says he's not just proud of Versacor, but of the pest control industry overall. "I've been in this business for 25 years now and don't regret it one bit," he says. "It is satisfying knowing that we protect the health, safety and reputation of our clients every day. I suppose it is true when they say that if you really enjoy what you are doing, it's not really work."