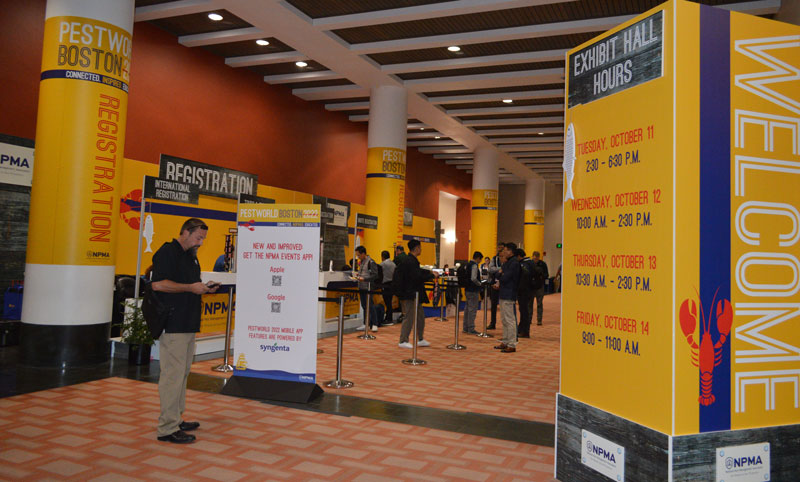 The first stop for most PestWorld 2022 attendees was the registration area to pick up the badges that provide access to the exhibit hall.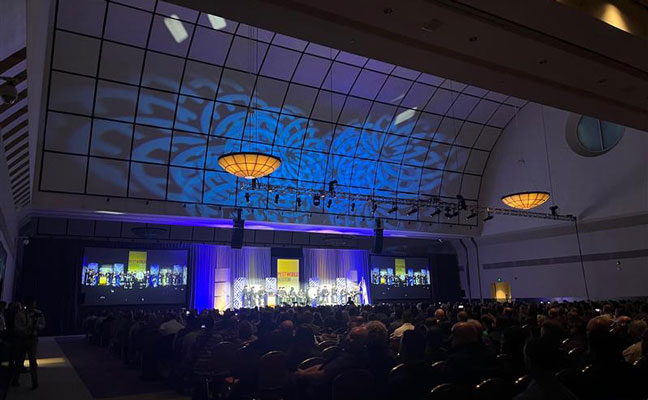 The Boston Police Gaelic Column of Pipes and Drum perform during the opening session of PestWorld 2022 on Tuesday.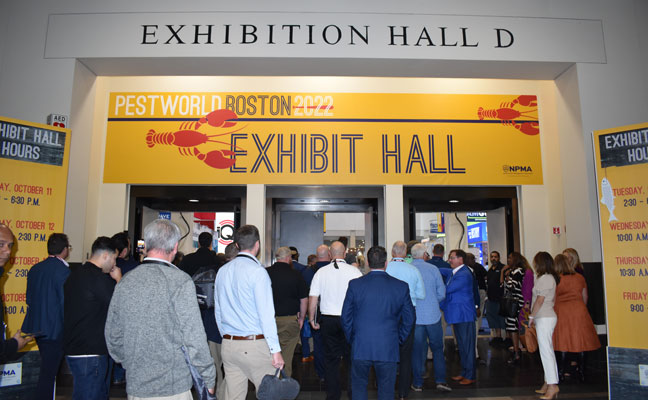 The exhibit hall officially opens for PestWorld 2022.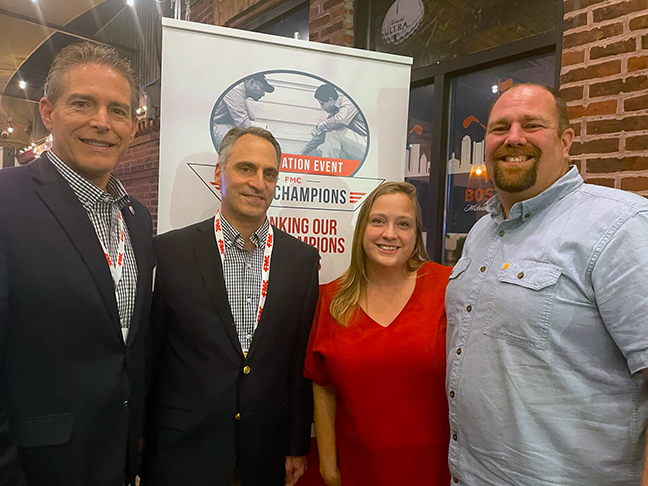 FMC Professional Solutions hosted a dinner reception for its True Champions members at Dillon's, a restaurant located in an original Boston police precinct station built in 1887. Pictured from left are FMC Professional Solutions' North America sales manager, Allan Dufoe,  and marketing manager, Michael Sisti, with Trinity and Randy Moffat. Randy is director of operations for United Pest Solutions, Seattle, Wash.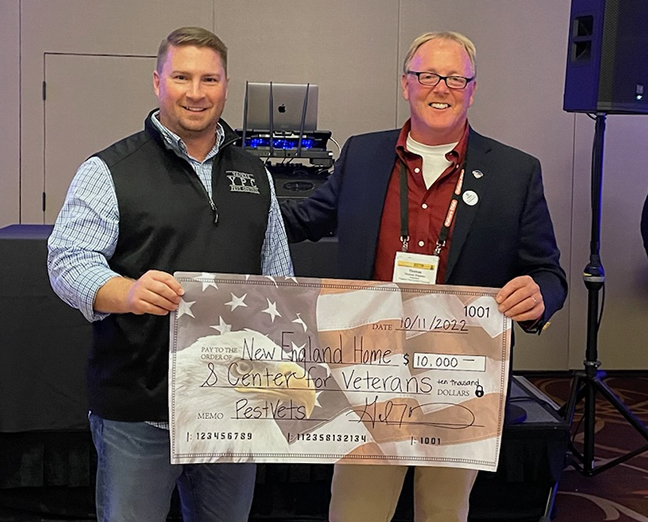 The New England Pest Management Association (NEPMA) hosted a dinner reception for its members. Taking place at the Sheraton, event sponsors included Bell Labs, BASF and Evolve YT. During the event, President Tom Drapeau, ACE, of Freedom Pest Control in Merrimac, Mass., announced that Yankee Pest Control's Galvin Murphy had donated $10,000 to the New England Center & Home for Veterans on behalf of the NPMA's PestVets, to match the $10,000 donation raised by NEPMA. This donation not only funds 180 "Welcome Aboard" packages for new arrivals, which consists of toiletries and other essentials, but helps bring a bathroom at the Center into compliance with the Americans with Disabilities Act.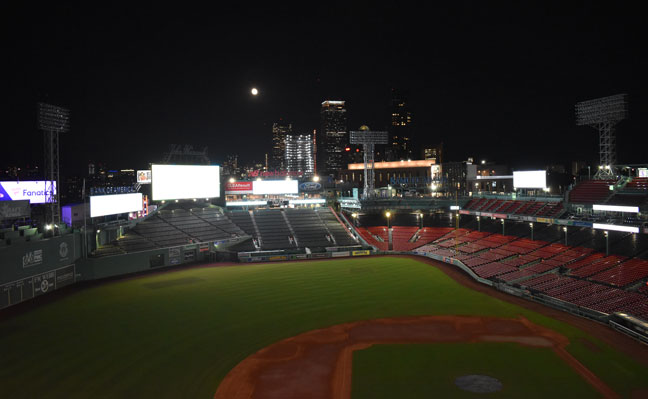 Control Solutions Inc. hosted an event Tuesday night that included tours of Fenway Park.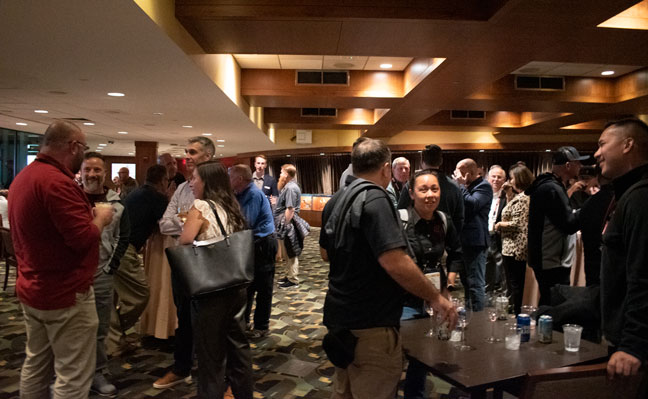 Attendees of PestWorld 2022 were able to meet up during the Control Solutions Inc. event at the Dell Technologies Club in Fenway Park.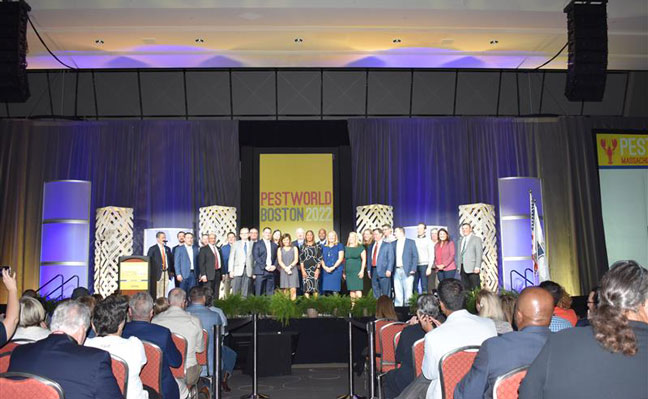 The NPMA Board of Directors took the stage during the general session of PestWorld 2022 on Wednesday morning.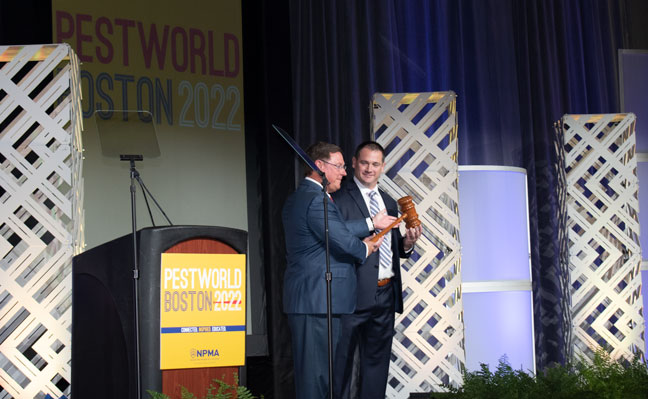 Former NPMA president Scott Steckel passed the gavel to new NPMA President Justin McCauley.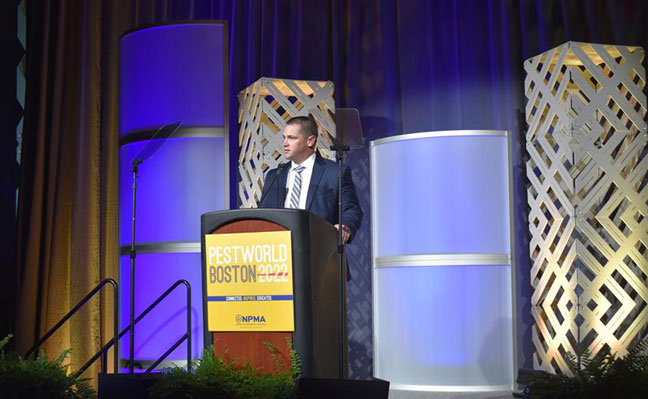 NPMA President Justin McCauley spoke at the general session of PestWorld 2022.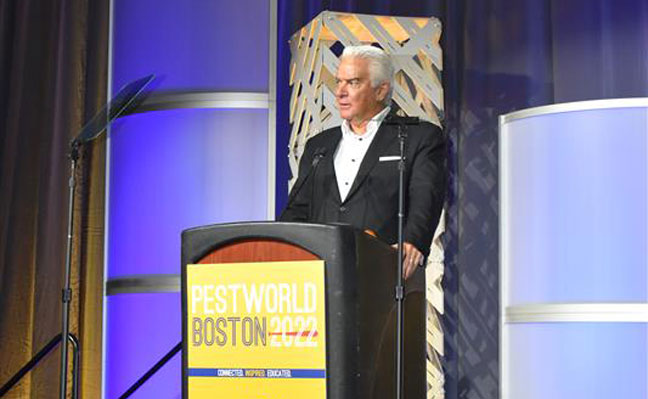 Jon O'Hurley was the keynote speaker who spoke during the general session at PestWorld 2022 on Wednesday morning.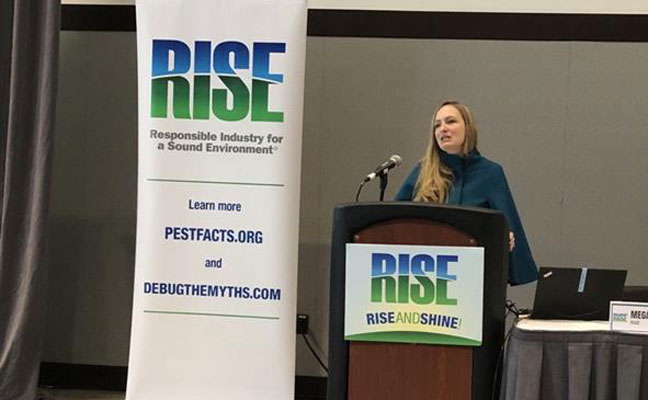 Megan Provost, president of RISE (Responsible Industry for a Sound Environment), led a panel discussion about the importance of advocacy in the industry. Panelist Jim Steed, president of Neighborly Pest Management, said, "We have a very noble industry that does great work for public health."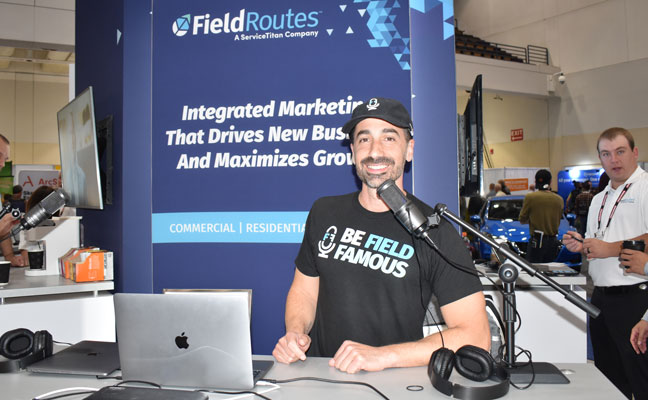 Dr. Chris Fasano, FieldRoutes' director of growth marketing, was at the company's booth collecting stories for its upcoming podcast series, Field Famous.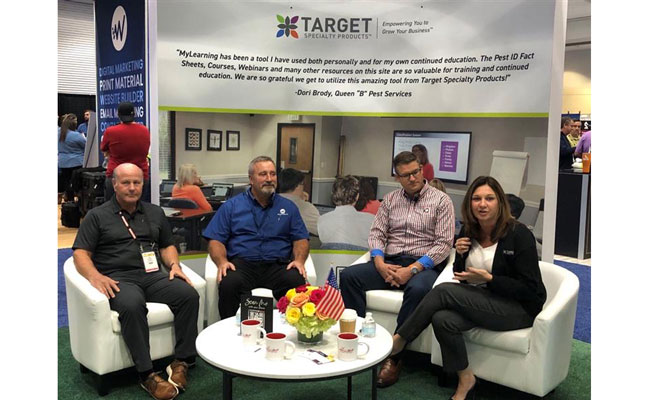 Chatting at the Target Specialty Products booth are, from left, PCO Bookkeepers Owner (and PMP financial columnist) Dan Gordon, Target's Brian Bacigalupo, Bell Laboratories' Patrick Lynch, and Target's Heather Alonso.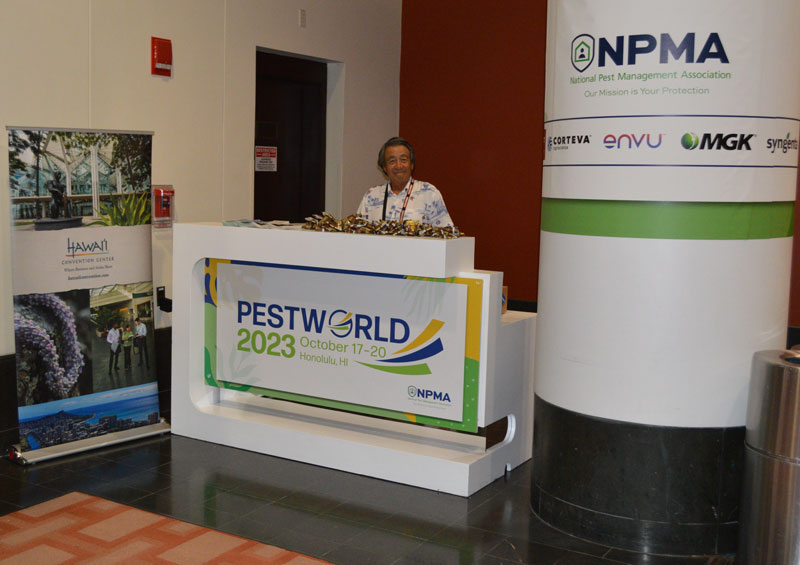 Anyone with questions about Hawaii, the location for PestWorld 2023, could learn more at an onsite information booth.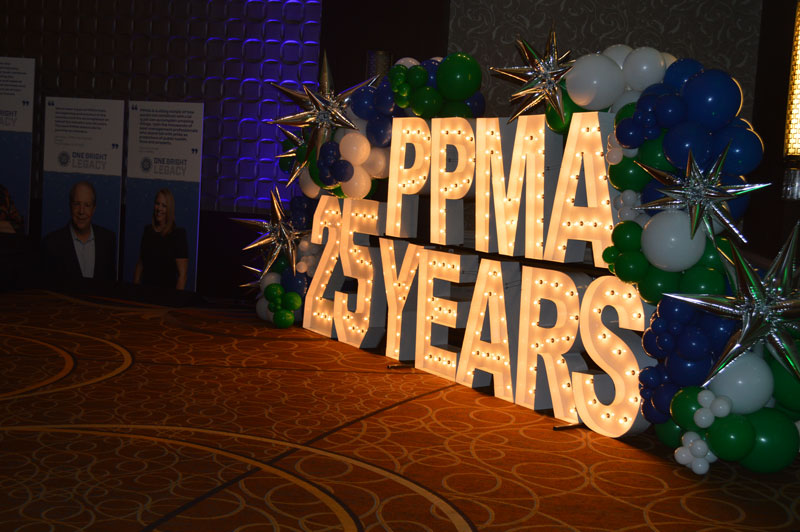 The Professional Pest Management Alliance (PPMA) celebrated 25 years at a reception held at PestWorld 2022.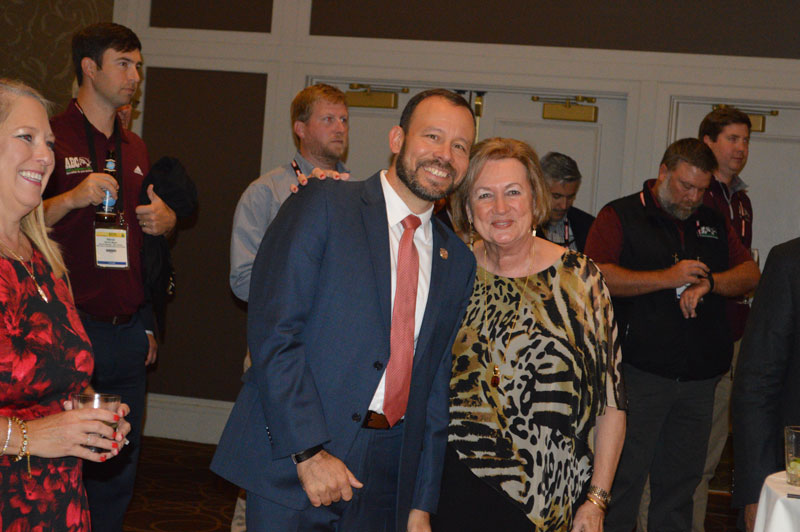 The Professional Pest Management Alliance's (PPMA's) incoming executive director (and PMP's "Callback Cures" columnist), Dr. Jim Fredericks, celebrates with Cindy Mannes, who will retire from the post at the end of this year.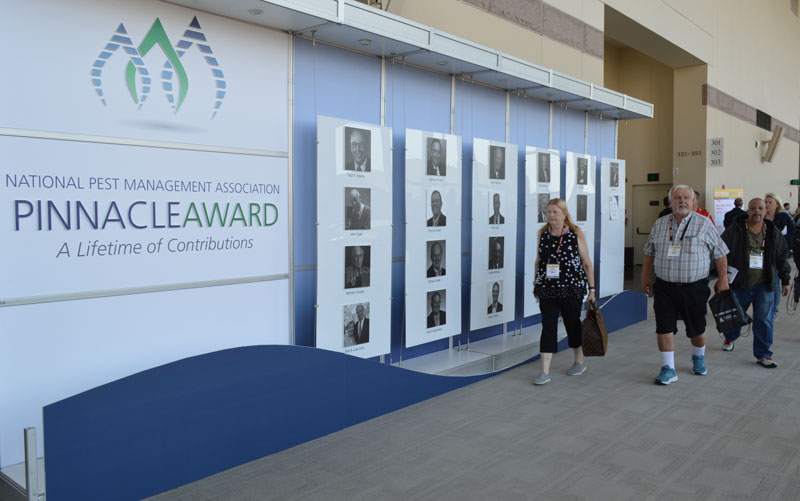 The National Pest Management Association showcased its Pinnacle Award recipients with a special wall display.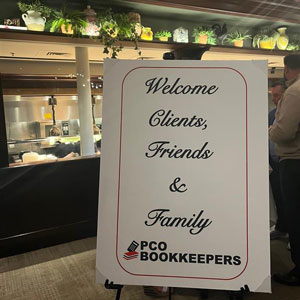 PCO Bookkeepers hosted a cocktail party at Joe's on Newbury Wednesday night.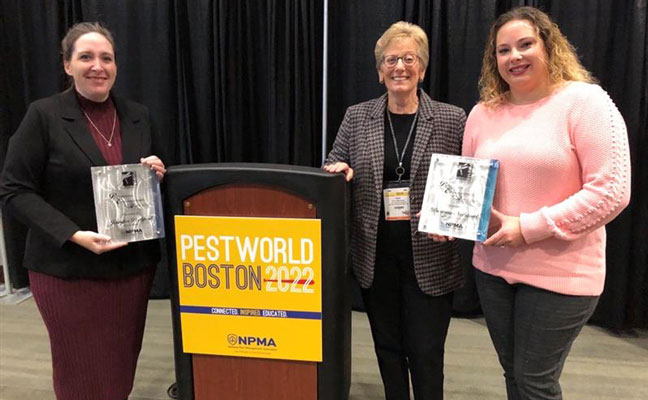 The Professional Women in Pest Management awarded Jennifer Peckford, of Orkin Canada, and Breanna Neerland, of Kwik Kill Pest Control, the Professional Empowerment Grant 2022. The scholarship was named after Deni Naumann (middle).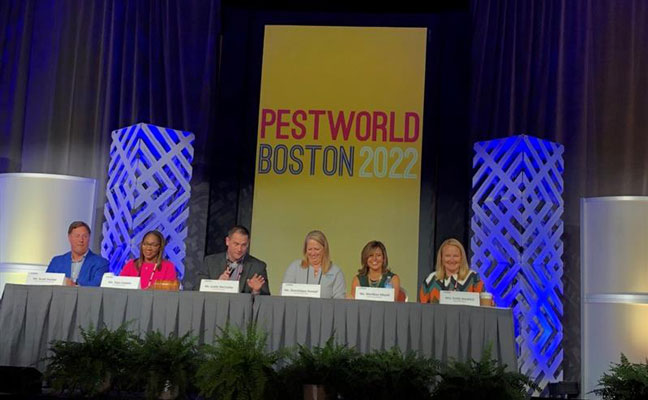 The 89th annual NPMA membership meeting took place at PestWorld 2022 on Thursday.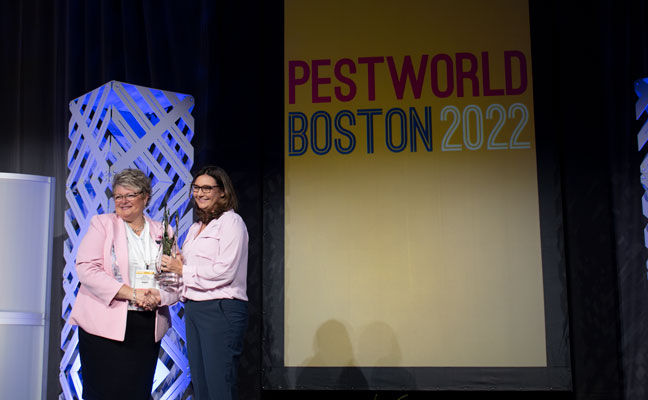 Sheila Haddad, of Bell Laboratories, was awarded the 2022 Women in Excellence award.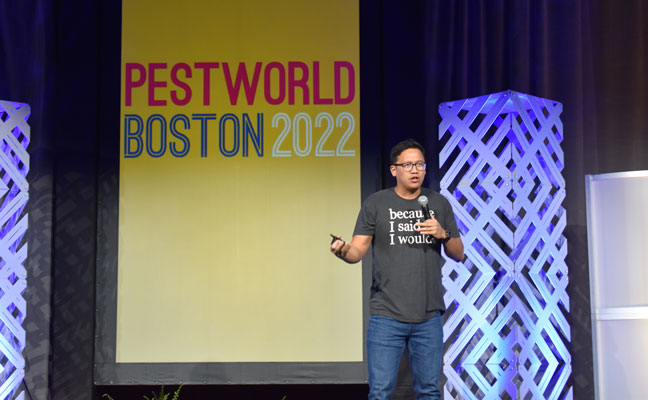 Thursday's general session at PestWorld featured speaker Alex Sheen.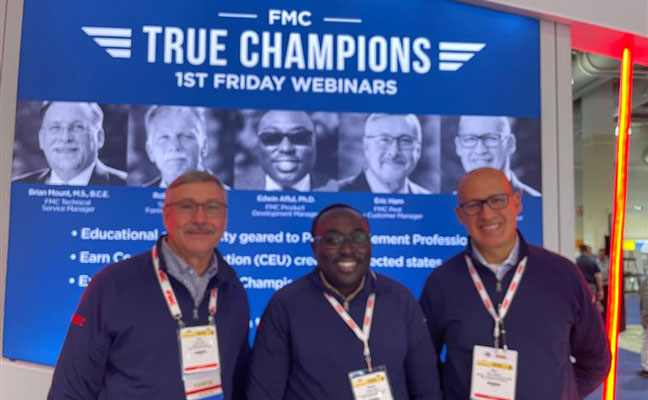 Wednesday in the FMC booth, several of the past FMC True Champions First Friday Webinar Series speakers were on hand to field technical questions from attendees. Pictured from left are Eric Ham, Dr. Edwin Afful and by Dr. Ben Hamza.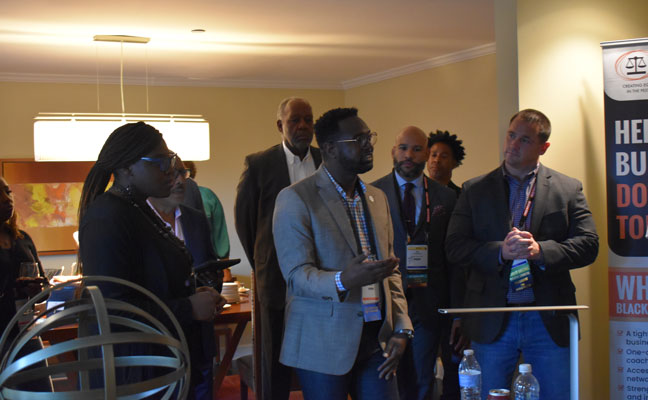 Dr. Hamilton Allen, center, the current Black Ownership Matters (BOM) president — and a PMP Editorial Advisory Board member — spoke at the organization's two-year anniversary event during PestWorld 2022.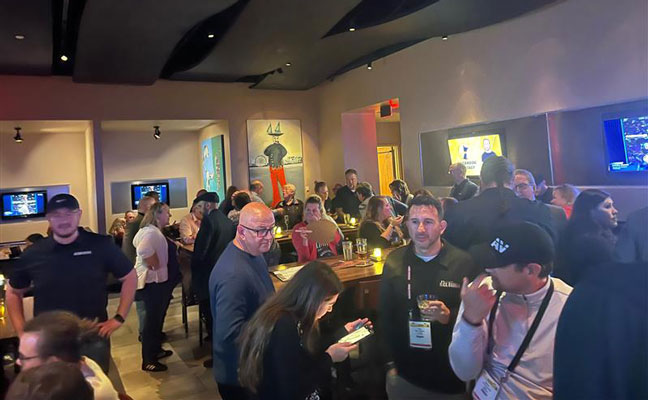 Pi Chi Omega hosted an event on Thursday night at Yard House.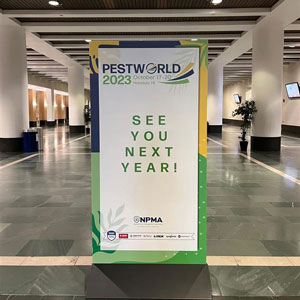 PestWorld 2022 ended on Oct. 14 after four days in Boston, Mass. Next year, PestWorld 2023 will be in Hawaii.