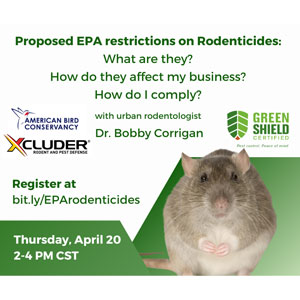 Green Shield Certified and the American Bird Conservancy will host a webinar titled "Upcoming EPA restrictions on Rodenticides: What are they? How do they affect my business? How do I comply?"on April 20 from 3 p.m. to 5 p.m. Eastern.
Last year, the U.S. Environmental Protection Agency (EPA) proposed to categorize all second-generation anti-coagulant rodenticides for restricted use, make changes to some first-generation anti-coagulant rodenticide statuses and adjust application methods within certain areas of the US. The affected active ingredients include brodifacoum, bromadiolone, bromethalin, chlorophacinone, cholecalciferol, difenacoum, difethialone, diphacinone (and its sodium salt), strychnine, warfarin (and its sodium salt) and zinc phosphide.
American Bird Conservancy Director of Governmental Relations Hardy Kern will describe these restrictions and explain the EPA's motivation to adopt these restrictions to protect endangered species and wildlife.
Following discussion of the new restrictions, Urban Rodentologist Dr. Bobby Corrigan and Green Shield Certified founder Dr. Thomas Green will review the rodent trapping, baiting, exclusion and sanitation strategies that structural pest management professionals can adopt to meet and exceed these EPA rodenticide restrictions. Dr. Corrigan is also a member of the Pest Management Professional Hall of Fame (Class of 2008).
This presentation qualifies for pesticide applicator license continuing education units in Florida, Indiana, Michigan, Ohio and Pennsylvania.
Registration to this session is $20 at bit.ly/EPArodenticides.