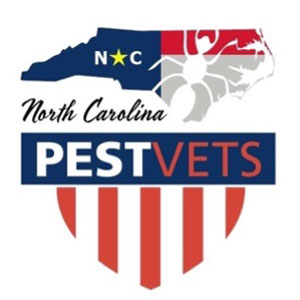 The North Carolina Pest Management Association (NCPMA) launched North Carolina PestVets, a chapter of the National Pest Management Association's (NPMA's) PestVets.
The chapter will focus on reaching out to and supporting veterans in North Carolina's pest management industry, and educating veterans and military personnel about career opportunities in pest management.
PestVets was created in 2015 to engage veterans in their successful transition to a career in the pest management industry and to promote the recruitment of veterans to member companies.
"North Carolina is the most military friendly state in the country, so it made sense to have a PestVets chapter. It's a huge state for pest management, and a lot of veterans live in North Carolina, so it's the perfect opportunity to educate veterans on the pest management industry and alert them to jobs in pest management," said Michael Ivey, chair of the NC PestVets Committee.
The NC PestVets officially launched at the 2023 Pest Control Technician's School with a 50/50 raffle fundraiser designed to raise startup funds for chapter activities. Prizes were donated from various companies, and members of the NCPMA 2023 Leadership Development Academy coordinated the fundraiser.
The NC PestVets chapter plans to support national PestVets outreach opportunities while also developing outreach and support for veterans on a state level. Within North Carolina, the chapter hopes to educate veterans and military personnel about the pest control industry, and provide additional support to veterans already in the industry to help them pursue their career goals.
Information about NC PestVets can be found at https://www.ncpestmanagement.org/pestvets.
3 members complete Premier Technician Program
In other news, the NCPMA announced that three individuals completed its Premier Technician Program throughout the courses offered March 29-30.
Premier Technician is a course designed to elevate a pest management professional's knowledge of the industry through the in-depth study of at least eight key areas including ants, bed bugs, cockroaches, flying insects, occasional invaders/stored product pests, rodents, wood-boring inspection or WDIR Accreditation, and wood-destroying organisms.
The Premier Technician program offers a continuous series of courses to help professionals develop a deeper and clear understanding of pest infestations from discovery to treatment. Individuals who complete the program must have worked in the industry for at least one year and must complete the Wood-boring beetle/Inspection course or have WDIR Accreditation through NCPMA.
In order to maintain the Premier Technician designation, professionals must continue to take at least one, eight-hour course every two years.
The Premier Technician Program is made possible through the contributions of its Strategic Founding Partners: BASF, Bell Laboratories, Corteva Agriscience, ENVU, FMC and Syngenta.