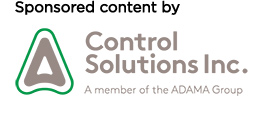 Whether a product is the right fit for his company's lineup depends on several factors, says Adam Eason, president and CEO of Bug Busters Pest Control Services, which has locations in Farmville and Colonial Heights, Va. For starters, he looks at the safety of the product for both the employee and customer.
"Without either of them in the equation, the product does not matter," he says.
Bug Busters, which services 65 percent residential and 35 percent commercial accounts, also considers the product's effectiveness to ensure it will deliver the results both the company and the client desire. While price also factors into the equation, Eason says it's never at the cost of results and safety.
After considering all of those elements, Bug Busters decided to add Control Solutions Inc.'s (CSI's) Proflex to its lineup. The $3 million company has about 40 employees and already uses some of CSI's other products, including D-Fense® Dust, D-Fense® NXT, Spectre, Fuse® and Fuse® Foam.
Three modes of action
One thing that stood out about Proflex was that its active ingredients, lambda-cyhalothrin and pyriproxyfen, were microencapsulated, says Jacob Orr, Bug Busters' chief operations officer.
"This helps provide a long-lasting residual and a good knockdown," says Orr, a 10-year industry veteran.
The product's third active ingredient, novaluron, is not microencapsulated, which allows it to take effect immediately. "Not many products out there are offering such bang for your buck," Orr says.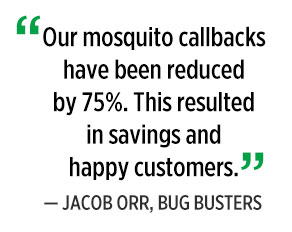 Before using Proflex, Bug Buster's teams struggled to combat some of their clients' property conditions and the overall climate in their area. "Virginia has a humid, subtropical climate," says Orr. "It's safe to say that we have our share of mosquitoes."
They always ended up with a few customers who had a lot of shade and moisture, Orr says, adding that those customers are "the ones that end up with service calls."
In the past, Bug Busters had practiced integrated pest management (IPM) techniques, eliminated breeding sources and used a reputable product. However, its teams were still not always able to keep the mosquitoes at an acceptable level. That's when several employees recommended using Proflex.
"Management decided to try Proflex on the problem accounts before we decided to introduce it companywide," Orr says. "Proflex yielded such great results, we happily made the switch."
Since adding Proflex to its lineup, Bug Buster has found a match for Virginia's humidity. "Our mosquito callbacks have been reduced by 75 percent," Orr says. "This resulted in savings and happy customers."
Photo: pernsanitfoto/iStock / Getty Images Plus/Getty Images
The right business partner
In addition to a quality product, Eason says, Bug Busters also values the added support and expertise it has found with CSI. Having a good supplier relationship is important because of the access to personalized training, Eason says.
"They provide you with the support and confidence your team needs to know the details of the product you are using — someone you can call on and get the attention your situation may need to resolve customer needs or concerns," Eason says.
Eason was introduced to CSI rep John Kurtz by his distribution rep a few years ago. "We immediately established a trusting relationship that has been strengthened each time a quality product has come to market and been recommended by our CSI rep and primary distributor," Eason says.
Since working with CSI, Eason says, CSI and distributor reps have described the quality, ease and effectiveness of the products with each rollout.
"Going forward, the relationships and the support will continue to be a large factor in our buying decisions," Eason says. "Remember, we are all taught we do business with whom we 'know, like and trust.'"
Learn more about Control Solutions Inc. and Proflex at ControlSolutionsInc.com.
---
This page was produced by North Coast Media's content marketing staff in collaboration with Control Solutions Inc. NCM Content Marketing connects marketers to audiences and delivers industry trends, business tips and product information. The Pest Management Professional editorial staff did not create this content.
Header photo: Nadanka/iStock / Getty Images Plus/Getty Images