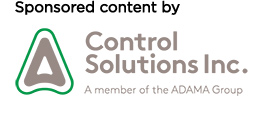 CSI's Pressurized Solutions are a favorite of Brown Exterminating Co.
Aaron Brunell is only 31 years old but he's already the owner of Brown Exterminating Co., a business he's looking to grow with the help of Control Solutions Inc. (CSI). Brunell and his wife, Kim, purchased the company from his father-in-law in April. The Stanardsville, Va.-based franchisee prides his company on customer service, trustworthiness and its knowledge of pests.
A 'striking' new product
Today, the product that has most impressed Brunell is a new Stryker aerosol from CSI's Pressurized Solutions (PS) line.
Brunell recently used Stryker Wasp and Hornet Killer aerosol on a call for a yellowjackets nest under a deck. Brunell was able to go below the 9-foot deck and shoot the nest without ever going near it — or getting stung.
"The yellowjackets were gone. It stopped them dead in their tracks," Brunell says, adding that smaller, precise droplet sizes waste less product vs. a heavy stream.
Brunell's initial sample of Stryker Wasp and Hornet Killer came with a holster that attaches to his belt, which he has since found indispensible. He points out that the holster allows him to safely climb ladders with both hands.
Brunell also appreciates the packaging overall.
"I love how their new cans are set up because their straws are attached," he says. "Everybody loses straws otherwise."
Brunell even likes the color, a purple that sets the product apart from what people can find on the shelves at a hardware store. It is worth noting, however, that he is a Baltimore Ravens fan — so he may have a bit of a purple bias.
Photo: Owner Aaron Brunell (left) and technician Charles Miller (right). Photo courtesy of Brown Exterminating Co.
The learning curve
Taking it upon himself to get educated about the industry, Brunell joined the Virginia Pest Management Association (VPMA). For nearly four years, he's used his membership to network with other professionals and learn more about the industry.
As the "new guy," Brunell says, it was important to make connections with product distributors. He met John Kurtz, Northeast Territory Sales Manager for the pest control division of CSI, at a VPMA meeting. Kurtz first introduced him to Cyzmic CS Controlled Release Insecticide, a microencapsulated formulation for fleas, ticks and other pests. Brunell credits Kurtz with educating him on how to use CSI's products to better his business. He has since purchased a number of CSI products, including Taurus SC for all of his active termite treatments and Fuse for ants.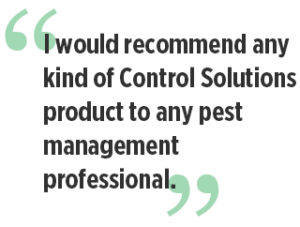 Brunell says he finds that the pricing is especially reasonable for a small company looking to buy professional-grade products. But he is most impressed with the dual mode of action of the active ingredients imidacloprid and fipronil in the Fuse product line.
As CSI continues to innovate with new product lines for the industry, Brunell commends the company for moving forward with technology.
"I would recommend any kind of Control Solutions product to any pest management professional," he concludes. "I love the company. They're striving to bring in new products."
Stryker Wasp and Hornet Killer in action
Business owner Andy Yant explains how "extremely quick" knockdown combined with an end to technicians getting stung has changed the way his 18-year-old company does business.
To learn more about Control Solutions Inc. and its products, visit www.controlsolutionsinc.com.
---
This page was produced by North Coast Media's content marketing staff in collaboration with Control Solutions Inc. NCM Content Marketing connects marketers to audiences and delivers industry trends, business tips and product information. The Pest Management Professional editorial staff did not create this content.
Header photo: Whitney Cranshaw, Colorado State University, Bugwood.org.