Deterring birds requires a multi-sensory approach that repels them by sight, smell and touch. Sometimes nets and spikes aren't practical. The goal many facilities managers are tasked with can seem overwhelming, even impossible: get rid of a variety of birds without harming them. To accomplish this, the key is to alter the birds' behavior without using a physical barrier.
Optical Gel, which is a product by California-based Bird Barrier, is one way pest management professionals can do this. Birds will completely desert a habitat, even one they have been using for years because of the multi-sensory approach that disorients them by:
Sight. Birds have ultraviolet receptors that see fire or smoke, even though there isn't any with Optical Gel. Humans, meanwhile, see nothing at all.
Smell. A blend of peppermint oil and citronella is proven to emit a smell that is offensive to birds but quite pleasant to humans.
Touch. The gel properties make Optical Gel sticky if the birds do touch it.
By understanding how to apply and where to apply Optical Gel, you can help your customers to make bird management a quick and easy task, much like the customers we talked to in our case studies.
How to apply Optical Gel
Thoroughly clean the site first. If birds have already claimed the area as a home, remove all nests, pressure wash and sanitize with a 10 percent bleach solution. And of course, always wear personal protective equipment when cleaning. The gel trays can be used in conjunction with netting and spikes but are especially useful in places where mechanical deterrents aren't practical.
Determine your placement on ledges, pipes, signs, roof peaks and similar locations. For heavy pressure sites, space every six inches for nests and every eight inches for nighttime roosts. On an open ledge, install one inch back from the edge and 10 inches apart. At only 2-1/2 inches in diameter and 7/8 of an inch tall, the dishes are discreet enough for use in even visible areas.
Secure Optical Gel to the surface with a small dab of silicone. Dishes are pre-loaded and with firm density, the gel won't run, even when mounted upside down.
For gull sites, check on the installation every few days for the first two weeks and amend installations accordingly. Gulls are adaptive, so you'll want to be, too.
Replace in 2 to 4 years. As long as the area was thoroughly cleaned first, Optical Gel has years of effectiveness, with no maintenance required. It doesn't get much easier.
https://www.youtube.com/watch?v=3mljjFotjLk&feature=youtu.be
Where to apply Optical Gel
Optical Gel is resistant to high and low temperatures, rain and snow. Utilizing all organic ingredients, it is a Minimum Risk Pesticide, FIFRA Exempt. Sold in packs of 24, Optical Gel can be applied to:
AC equipment
Balconies
Beams
Cable Runs
Chimneys
Enclosed spaces*
HVAC Equipment
Ledges
Parapet Caps
Roofs
Signs
Skylights
Small Openings
Soffits for Mud Swallows
Speakers
Steel Beams
Vertical Surfaces for Woodpeckers
Window Sills
*Optical Gel's safe, organic formulation means consumers don't need to be concerned about the product's effect on air quality or contact to skin.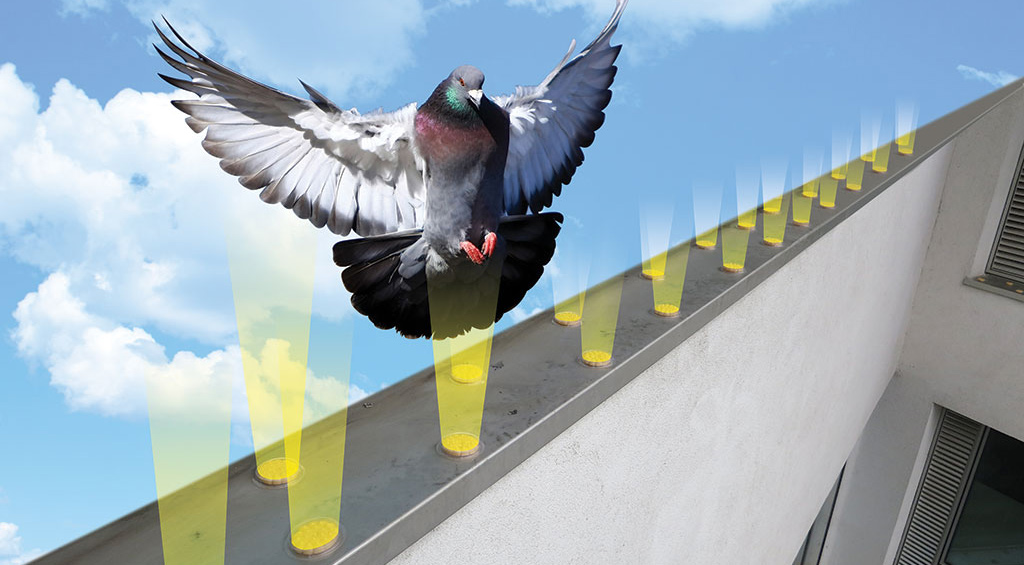 Case Studies: Optical Gel in action
Case Study #1: Il Centro shopping center is pigeon-free for grand opening
Preventing pigeons on commercial buildings
Il Centro, the largest shopping mall in Europe, with 200 shops and 25 restaurants, opened in Milan, Italy in April 2016. Even before construction was completed, pigeons started to roost in sheltered parts of the building. Pigeons roosting below the roof were creating an unsightly mess on the glass facades.
The owners of the shopping center decided that prevention was better than cure. So, in December 2015 approximately 9,000 dishes of Optical Gel were fixed to all the sheltered parts of the structure.
Optical Gel has provided an effective yet discreet, solution to the pigeon problems. The client is delighted that the beautiful new building is now free of pigeons.
Case Study #2: Akenside Traders pursues new business opportunities with absence of birds
Gulls disappear from restaurants
Gulls had been nesting on the façade above Akenside Traders pub in Newcastle, U.K. for several years and creating a lot of mess on the pavement outside. This was detrimental to business as customers would complain about droppings falling on their heads and clothing.
More than 30 gull nests were observed on the lintels, cornices and other architectural features. That large number of gulls present during the summer months was resulting in extensive fouling of the façade and the pavement below.
The entire façade was pressure-washed and all nests were removed. To prevent day roosting, the cornice above the fourth floor was treated with two rows of dishes of Optical Gel at 12-inch centers; while the deep ledges in front of the three bay windows on either side of the façade at the fourth floor were treated with three rows of dishes at 12-inch centers.
"Since Optical Gel was fitted to the façade, I can confirm that I have not seen one gull on the building. We are now applying for a license to have seating outside, which would not have been possible while the gulls were present."

—Grant Bowron, Restaurant Manager
Case Study #3: Westchester Wildlife helps New York homeowners
Optical Gel solves woodpecker problems
There is hardly a more annoying bird control problem than a woodpecker pounding a hole in the side of an expensive home or commercial structure. And because the birds are protected, there are very few things that can be done to resolve an issue. Homeowners can choose between loud hammering of holes at inopportune times, or netting, or other visually annoying solutions.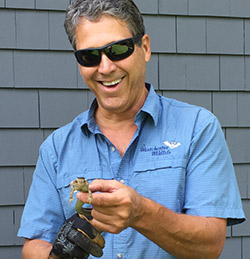 Bird Barrier's Optical Gel may just be up to the task. Just ask Jim Dreisacker of Westchester Wildlife in New York.
"We're 4-0 on these jobs with this product."

— Jim Dreisacker, Westchester Wildlife
Jim is a wildlife control operator, who happens to also be the inventor of the Batcone one-way door system for bats, rodents, squirrels and more. Jim recently tried the Optical Gel on four different residences up in New York, and reports 100 percent success.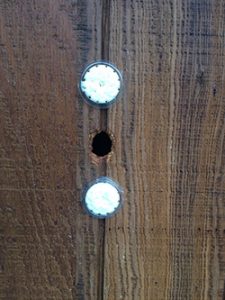 "Woodpeckers are a huge part of our business, and they are always a real challenge," Dreisacker said recently. "When I saw the Optical Gel from Bird Barrier I thought it might offer me a solution."
Dreisacker secured an Optical Gel dish above and below the hole with silicone, and left. After several months, he has not heard back from any of the four customers. How does he know it worked? "When I get a failure, especially with woodpeckers," Dreisacker said, "the customers call me immediately."
To learn more about Optical Gel, visit Bird Barrier.
---
This page was produced by North Coast Media's content marketing staff in collaboration with Bird Barrier. NCM Content Marketing connects marketers to audiences and delivers industry trends, business tips and product information. The Pest Management Professional editorial staff did not create this content.