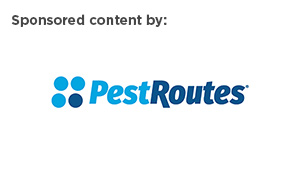 Personally and professionally, we're all looking for ways to make our lives easier and more efficient. As a pest control business owner, though, managing your business manually creates inefficiencies, is taxing on your time and dollars, and makes it challenging to keep up with your competition. The good news? Pest control software can alleviate these burdens.
Based in Watertown, Conn., Envirocare Pest Control is locally owned and operated by husband-and-wife team David and Danielle Bisaillon. For nearly 20 years, they had been running their business with pen and paper. Scheduling their technicians was a laborious process that involved printing out their daily schedules on a cover sheet in half-hour increments, manually writing the customer's address, then printing a separate ticket for each service provided. This took at least eight hours a day. Because of all the paper they were using, Danielle spent much of her time making trips to the office supply store — where they knew her on a first-name basis and would often give her free gifts.
In 2017, the Bisaillons were referred to PestRoutes® by a colleague. These days, Envirocare is completely automated as a result, and the Bisaillons can easily point to four main reasons why they were attracted to PestRoutes®:
A paperless office.
Not only is paper a big expense for pest control companies, but there are many challenges that come with it. First, when you're working with a lot of paper documents, it creates clutter and disorganization. Items can easily be misplaced, resulting in lost data and potentially lost customers.
Second, it increases your operating costs. For example, not only are you paying for the paper itself, but you have to purchase filing cabinets in which to store it. Mailing paper invoices means you're incurring the cost of ink, postage, envelopes and labor. It's estimated that a 5 percent decrease in operating costs results in the same effect as a 30 percent increase in sales.
Lastly, managing your pest control business with paper increases human error. What happens when a customer is mailed the wrong invoice, or a technician has to interpret bad handwriting and provides the wrong service? Storing all your documents in cloud-based pest control software significantly decreases the reliance on paper, and customers can pay their invoice through a branded customer portal.
Mobile tools for techs.
The Bisaillons also like that PestRoutes® offers a mobile version to communicate and send alerts to their technicians in the field. Mobile apps can make a technician's day more productive and less frustrating for several reasons. For example, they can receive instant appointment updates and detailed information about their next stop before they arrive. Technicians can also input notes from the field, access maps and directions, document what chemicals were used, and even clock-in and clock-out from their tablets or phones.
Additionally, mobile tools can make the sales process more efficient. Customers can sign a digital contract and immediately receive service. Sales professionals can set up automatic payments and custom billing to enhance customer satisfaction, and lessen the need for collections from overdue payments.
Photo: PestRoutes®
Easy implementation.
Twenty years of data and paper may seem daunting to transfer to a software system, but the Bisaillons found that Envirocare's customer database was easily implemented with minimal disruptions. The PestRoutes®' implementation team is available to help employees on their own schedules and at their own pace. Implementation typically takes four to six weeks, with no downtime to your business. During this time, PestRoutes® will walk you through expectations, set up a dry run to ensure there are no surprises, and ensure everyone is trained and confident running the new system.
Intelligent Routing feature from PestRoutes.
The PestRoutes® platform makes it simple to plan technicians' routes. The Intelligent Routing feature can be used to bulk schedule customers. It gives you the capabilities to assign an area of customers by a preferred technician or region, then creates pre-built routes that are efficiently optimized. PestRoutes®' Intelligent Routing includes the following:
Visual Grouping – Assign an area of customers to a preferred technician or region.
Intelligent Routing – Create the most efficient routes based on the maximum number of stops or a maximum number of minutes per route.
Assign Planned Routes – Assign these routes to the technicians.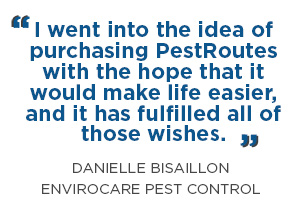 Since implementing the PestRoutes® platform, Envirocare Pest Control has saved nearly $2,000 a month in paper and office supplies. The office team has gained significant time back to their day, since scheduling is as easy as clicking a button. Additionally, Envirocare technicians are no longer wasting time calling the office throughout the day, since they can send alerts and communicate on the mobile app. In fact, perhaps the only downside is that the local office supply store lost its No. 1 customer.
"I went into the idea of purchasing PestRoutes® with the hope that it would make life easier, and it has fulfilled all of those wishes," Danielle Bisaillon concludes.
---
This page was produced by North Coast Media's content marketing staff in collaboration with PestRoutes®. NCM Content Marketing connects marketers to audiences and delivers industry trends, business tips and product information. The Pest Management Professional editorial staff did not create this content.
Header photo: PestRoutes®; Graphics: PMP Staff