For the last 15 years, Bucksworth Home Services has been helping the people of Apache Junction, Ariz., feel safe and pest- free in their communities. While the company strives to ensure all its customers are pleased with its services, Bucksworth was actually struggling at some accounts to prevent white-throated wood rats (Neotoma albigula, also known as pack rats) from returning and wreaking havoc.
Bucksworth landed an account to protect a community with more than 65 parks in its limits, and pack rats were Enemy No. 1. Chris Koceja, operations manager of Bucksworth Home Services, knew he would need something "smarter" than a typical rodent trap to outsmart these wily rodents. Last year, Koceja learned about the iQ products powered by Bell Sensing Technologies — and less than two months later, the iQ product line became his weapon of choice.
"We're looking for the right conditions for infestations: food, water, shelter," Koceja says. "We have to identify how they are getting these things, looking for signs and evidence. We create a plan to alleviate the situation, and then we deploy it. iQ products give us a step up in the plan."
Part of Koceja's plan for these parks included strategically hiding more than 200 iQ-enabled traps. Almost immediately, he began seeing results from the iQ products.
"In a two-day period, I had one bait station register more than 60 events," says Koceja. "We found a lot of traffic in some of these parks, and not as much in others. We are now able to focus more on the heavily trafficked parks, which is great."
Koceja relies on multiple traps from the iQ product line, including the EVO Express iQ and the TRAPPER T-Rex iQ. These products have helped Bucksworth become a neighborhood hero, according to Koceja.
A smarter hiding spot. (Photo: Bucksworth Home Services)
"We use the iQ Evo Express station for the bushy, weeded areas in the park, and we also purchased the landscape stones for the iQ T-Rex," says Koceja. "We now have people waving and cheering when we drive up because we have helped so much."
It's not just the iQ products' ability to trap and track the pack rats that is an asset to Koceja. The products also help him stay more in-tune with his business and his clients. By producing reports of how many rats are trapped, Koceja is then able to continuously inform the communities on how well the iQ products are controlling the infestation.
"I do most of the checking and all the reports, and when you have a large community that wants to know how their rat infestation is doing, Bell Sensing technology gives you a printout of how many traps you checked and what type of activity triggered and event," Koceja says. "I then take that email from Bell and can forward it to the community planners."
By having this technology available, Koceja and all the technicians at Bucksworth can be very transparent in how the infestations are progressing — and can keep track themselves to ensure that the infestations are being taken care of at a proper rate.
Better for Business
As the rodent infestations became more manageable, the techs at Bucksworth are able to focus on other aspects of the infestation, such as which bait is going to be the most effective to use inside the iQ products.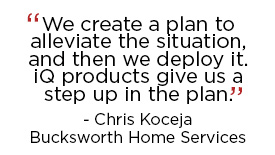 Not all infestations are the same, but Koceja is confident that no matter the infestation, the iQ product line will help alleviate some stress that comes with them. Because the iQ products record rodent activity in real-time and transmits the data to a mobile app, Bucksworth technicians receive reminders of when traps need to be checked for regular maintenance — ensuring that every trap is constantly monitored for rodent activity.
As technology continues to advance, Koceja looks forward to what Bell Labs will create to help the industry continue to improve rodent control. He sees this shift in rodent control technology as a good thing, as he has seen firsthand how it can have a huge impact on a community.
"Embrace technology. It's the way of the future," says Koceja. "It'll help to identify problems you wouldn't be able to otherwise."
---
Learn more about iQ products powered by Bell Sensing Technologies at BellSensing.com
---
This page was produced by North Coast Media's content marketing staff in collaboration with Bell Labs. NCM Content Marketing connects marketers to audiences and delivers industry trends, business tips and product information. The Pest Management Professional editorial staff did not create this content.
Header Image: Bucksworth Home Services / Video: Bell Laboratories