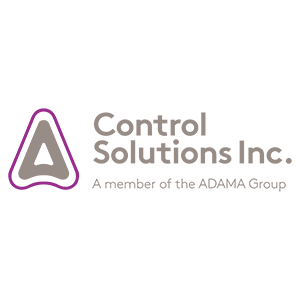 Control Solutions Inc. (CSI) takes pride in listening to customers and delivering the innovations they want
In the past five years in the U.S. alone, Control Solutions Inc. (CSI) has spent more than $4.5 million on research and development (R&D) for innovations for professional pest management, turf and animal care. Unlike many of its competitors, Pasadena, Texas-based CSI is focused on products that control structural and turf insects and arthropods, rather than on crop pests. According to market research, the investment is paying off: CSI has been named by an industry consultancy the fastest-growing manufacturer in the professional pest management industry. The accolade comes as little surprise to CSI Marketing Director Ty Ferraro. He sees it as proof CSI is being recognized as providing cutting-edge technology to pest management professionals (PMPs).
"We have been transforming the past five years to go beyond 'just a generics formulator' into a hybrid company that listens to PMP customers asking for new products to solve longstanding problems," Ferraro explains. "And because of our investment in R&D, we are able to react quickly, providing innovative formulations and application methods."
A prime example of CSI's innovation is its introduction of mixed, or ZC, formulations to the U.S. market. ZC formulations contain one or more active ingredients of a capsule suspension (CS) and suspension concentrate (SC). CSI branded the concept as "Combination Chemistry," with products featuring multiple modes of action to help PMPs become more efficient (and confident) in their general pest control treatments. 
⦁ Proflex is CSI's first ZC formulation in the U.S. Proflex contains the adulticide lambda-cyhalothrin and the IGRs novaluron and pyriproxyfen. Three modes of action combine for a fast-acting, long-lasting solution for hard-to-control pests including mosquitoes, cockroaches, fleas and ticks. 
⦁ Tekko Trio Concentrate and Tekko Trio Foam represent the first ever, triple IGR products. Powered by the combination of (s)-hydroprene, novaluron, and pyriproxyfen, the product offers 3 unique modes of action to eliminate current and future populations of ants, bed bugs, cockroaches, mosquitoes, stored product pests, ticks and more. "Novaluron is a molecule and IGR that is proprietary to our parent company, ADAMA," notes Ferraro, adding that it is exclusive to CSI in the professional pest management market. 
PDS, THE GAMECHANGER
Yet another CSI innovation is its patented Precision Delivery System, or PDS. Two formulations have been created specifically for use with the PDS: Doxem Precise — the first dry flowable bait to feature the active ingredient indoxacarb — for general pests, and Taurus Dry —a dry flowable product featuring the combination of fipronil and a proprietary non-repellent material — for termites. The PDS' ease of use, and use of less chemical for effective control, has been heralded as a "gamechanger" for professional pest management. 
CSI's technical services manager for PCO Product Development, Dr. Janis Reed, BCE, notes the PDS can deliver product consistently, accurately and, as its name implies, precisely. It can reach up to 24 inches into voids. "With CSI's PDS, there's no guesswork involved in application," Dr. Reed says. "To determine how much product is applied, PMPs need simply count the number of seconds the trigger is actuated."
LOOKING AHEAD
Since 2017, CSI has been laying the groundwork for being the premier manufacturer of pest control and turf care solutions. It added four technical service managers for the U.S. specialty market, and its recent multi-million-dollar facility expansion features a one-of-a-kind aerosol production facility for its Pressurized Solutions product line. With state-of-the-art technology and solid expertise in place, CSI is poised to bring even more innovations to the industry in the coming months and years. CSI Executive VP Curtis Clark says the company soon will unveil more products to use with the PDS.
"We're not only increasing adoption of Doxem Precise and Taurus Dry in 2021, but we also are continuing to develop a portfolio of products that effectively control a wide range of pests," Clark says. "We are looking to provide rotational options to support our customers' integrated pest management (IPM) approaches."
To that end, Clark says, CSI will continue to rely on PMPs' feedback to find and fill needs.
"We do a lot of outreach with PMPs through dozens of training seminars, classes and ongoing support from our sales and technical services teams," Clark says. "Our annual CSI Pest Academy has trained thousands of professionals since its inception in 2019. We take our responsibility, as a manufacturing partner, to educate and train very seriously. But to us, it's a two-way street: We welcome ideas and feedback from our customers. We leverage their input to drive our R&D and to take professional pest control to the next level."
It is, Clark concludes, all about taking CSI's mission statement to heart: Innovation you can apply. 

FROM SMALL-TOWN PEST CONTROL TO GLOBAL INNOVATOR

 
For more than 20 years, CSI has been a leader in the development of sustainable pest control formulations, with a wide array of active ingredients. As one of the 40 subsidiaries that make up ADAMA, the fifth-largest agricultural chemical company in the world, CSI is not only able to offer a large selection of products, it also introduced such innovations as Combination Chemistry, Pressurized Solutions and Encapsulated Solutions.
The company traces its roots to 1958, when President and CEO Mark Boyd's father, Richard, purchased a small pest control company in Pasadena, Texas, and founded Ford's Pest Control. By 1960, Richard launched Ford's Chemical to formulate and sell pest control solutions to colleagues and the public. In 1976, he merged the two businesses into Ford's Chemical and Service, and in 1984 he sold the pest control service side. Five years later, he sold Ford's Chemical to Rousell Bio Corp. But in 1998, Mark got back into the industry by acquiring a chemical manufacturing facility and launching CSI.
The rest, as they say, is history. 
---
Video Image: CSI
This page was produced by North Coast Media's content marketing staff in collaboration with Control Solutions Inc. NCM Content Marketing connects marketers to audiences and delivers industry trends, business tips and product information. The PMP editorial staff did not create this content.