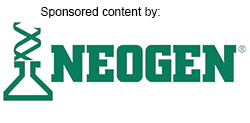 The Covid era has challenged and prepared PMPs, also known as Pest Management Professionals, for the future of the Professional Pest industry. In less than two years, the essential work performed by PMPs in the Food Safety and Public Health arenas have increased substantially, both in necessity and frequency. These services range from food manufacturing and restaurant to hospitality and Institutional customers, to name a few. Each of these environments bring unique, challenging opportunities for PMPs to provide protection for individuals both domestic and internationally.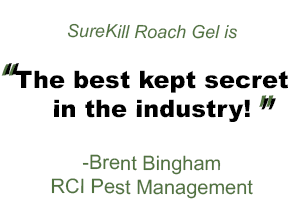 The continued shift to mass food production and increased interaction among people have created some of the toughest conditions for PMPs to be successful in providing pest protection against insects, rodents, and pathogens. Partnering with a company that can support PMPs in each of these unique public health situations is crucial in earning their customers trust and becoming their choice for all pest control solutions.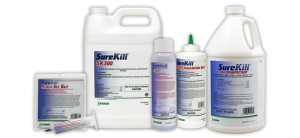 Over the last 40 years, NEOGEN® has developed one of the most comprehensive range of solutions for the food processing, professional pest, animal protein, and agricultural industries in the world. NEOGEN has been a pioneer in new technologies that protect some of the most vulnerable sectors including global food supply and public health. In the professional pest industry, our partners have put their trust in the SureKill® brand of insect control, rodent control, and biosecurity solutions.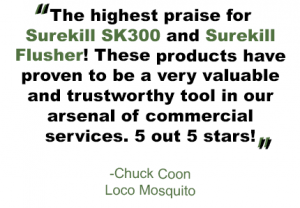 To achieve success year after year, PMPs know they must depend on many different formulations, product presentations and active ingredients. Bearing this in mind, NEOGEN has constructed the SureKill portfolio to offer a wide range of solutions to our partners. As we continue to expand our footprint in this industry, NEOGEN is focused on unique and innovative product formulations that increase our partners' profitability and overall success.
One of the most frequent pests encountered in Food Safety and Public health is a leading vector for infections such as E. Coli and Salmonellosis. Cockroaches present a significant risk of contamination to food and food-handling surfaces via their droppings and mechanical transfer from their bodies. German cockroaches are the most common in human occupied spaces and therefore often associated in these environments. These settings require excellent sanitation, proper inspections, and various products to prevent or control German roach infestations. By covering a multitude of chemical formulations and varying application methods, NEOGEN's SureKill portfolio addresses these pests and provides the perfect solution.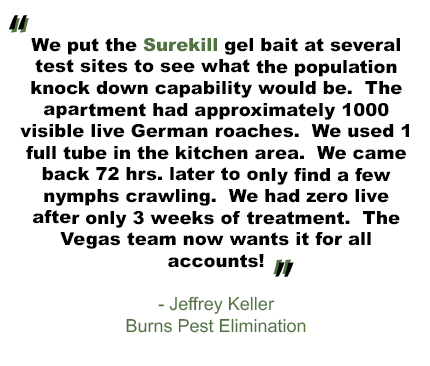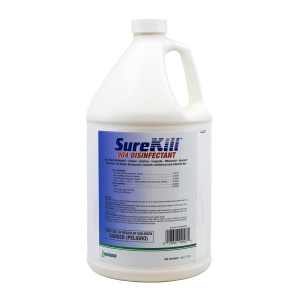 In many situations, PMPs are asked to overcome large infestations that may have been exacerbated by lack of inspections or DIY control methods. Large infestations require cleanout services to knockdown populations prior to applying more focused applications. These clean out applications range from fogging concentrates like SureKill SK300 to the patented SureKill Flusher aerosol. SureKill SK300 fogging concentrates provide a dual-synergized 3% pyrethrin formulation, allowing the PMP to cover large areas quickly while penetrating harborage areas where cockroaches are most likely found. In situations where facilities require more targeted clean out applications, SureKill Flusher has been a trusted tool in many PMPs arsenals. SureKill Flusher is a patented dry fog aerosol providing PMPs the benefit of a quick knockdown flushing agent, and the safety of a non-flammable formulation. Treatments for German roaches demand an aerosol that can penetrate deep harborage areas, allowing PMPs to gain control of populations that may otherwise have been inaccessible.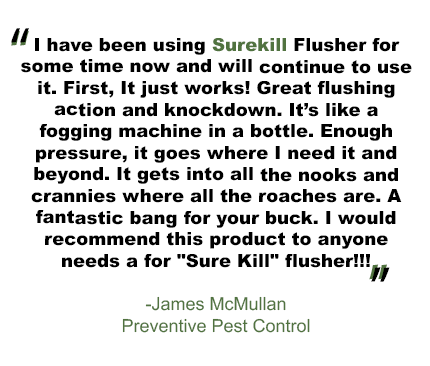 Once populations are reduced, applications of gel baits and dust products provide long-term control and prevention. These solutions have evolved over the last decade, providing PMPs the needed addition of a non-repellant insecticide. NEOGEN's SureKill Roach Gel has recently brought one of the most unique bait formulations to the industry, utilizing the active ingredient Imidacloprid. This gel bait provides a dual mode of action, allowing control through ingestion and food exchange, known as trophallaxis. This hygroscopic formulation re-captures ambient moisture allowing PMPs the ability to provide lasting control for weeks. NEOGEN's Dia-Py Dust is a great final step in any roach service as it not only provides quick knockdown and kill, but a long-lasting residual for roaches and other crawling insects.
Although best practice is to implement good sanitation in these facilities with cleaners and disinfectants, many situations demand control prior to prevention techniques being established. SureKill 904 provides a broad-spectrum disinfectant for use on non-porous surfaces allowing PMPs prevention against bacteria, fungi and viruses that cause disease and economic loss. Not all disinfectants are created equal though, in addition to being a one-step disinfectant, SureKill 904 is a cleaner, sanitizer, and virucide, and more. With low mix rates and a very broad label, it allows for use in many different facilities and targeted applications.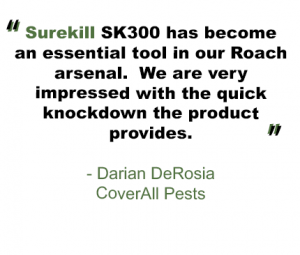 With all German roach treatments, a multiple product approach should be taken when providing control and prevention in all facilities. But keep in mind, the most successful solution to all pest challenges, is preventative maintenance and good sanitation practices. Finding a partner that can provide solutions for each of these challenges can be difficult, but NEOGEN is dedicated to being a leader and provider of all pest solutions.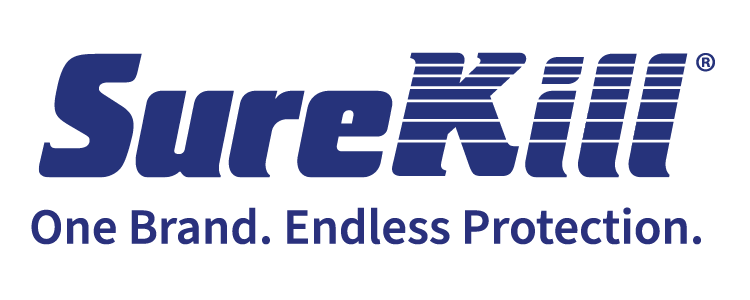 ---
This page was produced by North Coast Media's content marketing staff in collaboration with Neogen. NCM Content Marketing connects marketers to audiences and delivers industry trends, business tips and product information. The Pest Management Professional editorial staff did not create this content.
Header Imaage: Neogen