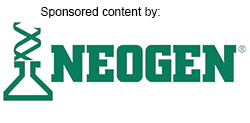 Ant and Cockroach gel baits have been an industry staple for decades. When added into service protocols, these tools allow pest management professionals (PMPs) to deliver precise treatments that stay where they are applied. Small application amounts can be utilized to treat an average home, especially in hard to reach places. By exploiting the biology, habits, and food sources of ants and cockroaches, gel baits are an effective solution to handling even the toughest infestations. But what do PMPs look for when selecting the right gel baits for their business? When so many options have hit the market, how do PMPs narrow down their choices? We asked industry experts from different climates and elevations around the United States to take part in a "SureKill® Pest Panel" to get their honest feedback on gel baits. In addition, we asked some further questions regarding how the SureKill Gel Baits have worked in their services.
Meet our panel:
Heather Alonso, BCE | Technical Training Manager | Target Specialty Products | Columbus, OH – abbreviated as HA
Rob Jackson | Owner | Jackson Pest Management, LLC | Fort Wayne, IN – abbreviated as RJ
Craig Keller | General Manager | Bohannon Services, Inc. | Florence, AL – abbreviated as CK
Cathy Morris | Vice President | Northwest Pest Control | Portland, OR – abbreviated as CM
William Woodhouse, ACE, PHE | Service Technical Specialist Manager | EcoShield Pest Solutions | Englewood, CO – abbreviated as WW
How are ant and roach gel baits incorporated into your ant or roach services, in general?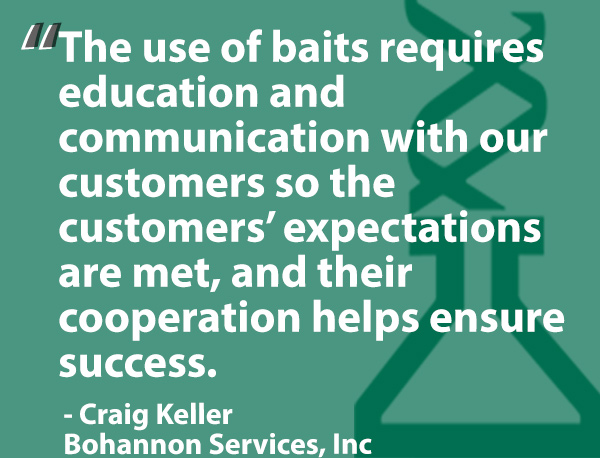 HA: While ant and roach gels are fantastic tools, they should not be relied on solely to gain control of infestations. However, they have been and will continue to be a logical go-to for PMPs as they are easy to use and easy to incorporate into service protocols.
RJ: We love baits for roaches, we have a rotation of several manufacturers and active ingredients.  We never want to use the same over and over, because that would be insanity.  Ant bait gels are my only mode of action for small ants.  We rotate and sometimes, use more than one kind at a house to eliminate the possibility of callbacks.
CK: Bohannon Services uses the IPM approach to Pest Control. Baits play a significant role in gaining long term control of Ants & Cockroaches.  The use of baits requires education and communication with our customers so that the customers' expectations are met, and their cooperation helps ensure success.
CM: We use both baits very consistently on our Maintenance programs as well as lighter clean outs.
WW: Gel Baits are and have been an integral tool for our PMPs combatting ant and roach issues. Ease of use and efficacy make them vital to everyday services.
What is your biggest consideration when choosing a roach gel bait?
HA: Efficacy of active and Bait Matrix are imperative. Is the bait attractive and is it palatable? Will it stay moist or dry out quickly? Another consideration would be ease of bait placements and use.
RJ: Diversity of active ingredient. Some may say they're stronger or more effective.  The roaches will always find a way.
CK: That depends on the circumstances and application sites.  We look for baits that are attractive to the target pest and does not stain, run, or does not harden too quickly.  Depending on whether the site is Residential, Commercial, or Industrial and the site conditions all factor into bait placement.
CM: Staying where it is placed, palatability and length of time it stays active.
WW: Before I choose any product, I conduct several tests on them, for baits I always test palatability first, obviously, if the target pest won't eat the bait, then it will not be effective regardless of the active ingredient. Second, I test efficacy to ensure it actually kills said target pest and lastly, I test long-term palatability under harsh conditions like moisture, heat, and humidity. Label restrictions also play a part in the final decision.
What is your biggest consideration when choosing an ant gel bait? Is it the same as the roach gel bait answer, if not, why?
HA: Somewhat the same answer here, but keep in mind that with ants they may have varying nutritional needs (and preferences) throughout the year.  Their preferences may change so making sure you have properly identified the ant species is critical.
RJ: Color, and attractiveness to the ants.  I want my ant baits to be transparent or even invisible to the client.  Roaches seem to adapt better than ants do.
CK: For both Ants and Roaches, we look for bait "attractiveness" and efficacy.  Also baits that allow us some latitude in placement helps considerably.
CM: Pretty much the same as above. However, placements for ants tend to be more out where people can see them so making sure it doesn't run down walls is very important. Education to the client is also extremely important so they know what to expect after placement and they resist the urge to spray the ants when they come out to feed on the baits.
WW: Same considerations are taken when selecting an ant gel bait as the roach gel bait.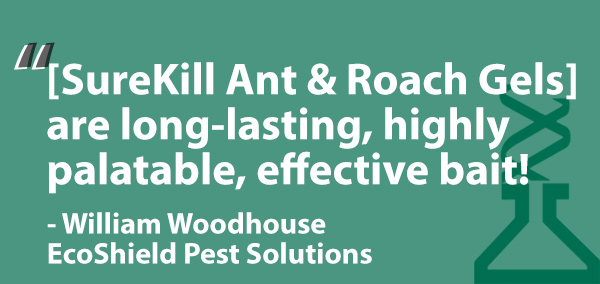 How do gel baits benefit your services (example reduced callbacks, improved route efficiency?)
HA: Baits in general are an incredible tool, that really changed the pest control game. You can make precise placements in a non-intrusive way that is very much in line with an IPM approach. It also makes sense when training professionals to help them understand the "why" behind treatment placements.
RJ: Gel baits ARE my service.  It requires educating the customer on how they are used.  But if used properly, and informing your customer, they'll be on your side the whole time.
CK: I hate to use catchphrases but, "Bang for the Buck" or "Return on Investment" are the key.  It does no good to keep using the same products or services over and over and expecting different results. Price is a secondary consideration to performance.  Our customers' satisfaction and our ability to protect our customers' health and property are the key.  If a product does the job, saves time and reduces callback while making our customers happy, we WIN!
CM: When we are using baits, we explain that customers only see a small % of ants compared to what is actually within a colony. So, explaining patience and correct placements inside and normally spraying the exterior keeps the customers happy. People don't like a lot of harsh sprays inside their house, so baiting gets the situation under control and is less invasive to the customer.
WW: All the above! The use of "The Right" gel baits during normal services has helped reduce callbacks, increase technician efficiency, improved customer retention, increased above and beyond reviews from customers, and has helped to solve a lot of "problem accounts"
If you were asked to give one tip regarding gel baits to a new technician, what would it be?
HA: Bait placement (location) is key to gaining control! While it's important to put out the right amount of product per placement and the right number of placements, it's extremely important to make these placements in critical locations.  If you've checked off boxes that bait is effective and palatable, then placement is key.
RJ: Bait precise, don't be sloppy, be a Master of It.  I don't want a huge mess of sticky bait all over the place.  Take your time and seek them out.
CK: DO NOT let the baits get hot or too cold. I have seen Technicians place bait where they will get hot or cold.  A melted/runny bait or a frozen bait are useless.
CM: Little placements go a long way & placing ant bait where the ants are coming from and not where they are going to, is very key. It is a food so if you put it up in a cupboard all the ants will want to go there and then the customer will not be happy when ants have been brought into the cabinets.
WW: Don't be scared to use them daily! They are a great tool and, in my opinion, underutilized by most technicians. It is such an easy thing to add to regular services that customers don't always see, so in their mind they are getting more services for no charge to them.
How have SureKill gel baits performed in your services?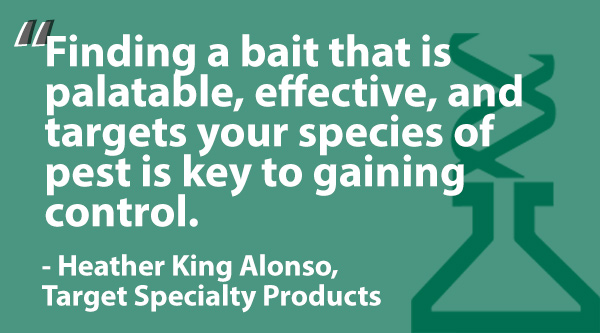 HA: While we have heard good feedback, it is also the responsibility of the PMP to ensure that their baits are ticking the boxes above for their services. No bait is one size fits all, so it is important to try new baits when applicable and be open to incorporating new baits into your rotation.
RJ: We have had them for less than a year, but we are pleased.  It's another tool in the bag.  But it is not THE tool.
CK: As with any "New" bait we try, we pick test accounts to try it out.  We wait and watch.  Almost immediately the feedback from our Technicians and Customers was positive.  We gained quick control and also control that last!
CM: The ant bait works well during the spring, they continue to feed months afterwards and it stays. The roach bait stays were placed and continues to deliver control.
WW: For me SureKill Ant and Roach Gel Baits have exceedingly outperformed some of the top named baits in both lab and field tests! I have spent a lot of time testing the top named baits in the last few years and have been very happy with the results from SureKill, in fact only one other bait even came close in my last Ant Gel palatability test with the SureKill Ant Gel.
Any additional opinions you would like to provide regarding the SureKill gel baits?
HA: Finding a bait that is palatable, effective, and targets your species of pest is key to gaining control. Manufacturers strive to offer the best solutions for their customers.  Testing out multiple baits and incorporating different actives and bait matrices is a great way to do your due diligence.
RJ: I would love to see a dry flowable bait for both roaches and ants.  This would be something that is even more invisible, instead of ugly brown toothpaste in kitchen cabinets.
CK: We continually are hearing about the next "Great" product.  We keep up with the trades and research everything, but sometimes it is a Rep stepping up and putting their product on the line. Our Neogen Rep, Tamra Lewis showed me the SureKill Ant & Roach Baits while at a conference.  She gave me a few to try.  I placed the baits with Technicians that had problem accounts.  As I stated, the response & feedback was quick and positive.  We immediately added the SureKill to our Pest Control Toolbox.  It is and has been a great tool.
CM: Due to the roach bait being thicker and the tubes being a bit bigger than other baits, we have gone to a bait gun delivery to make it easier on techs to put out proper placements.
WW: If you have never, or don't currently, use SureKill Gel Baits in your conventional gel bait rotation then you are missing out on long-lasting, highly palatable, effective bait! Nothing but the Best!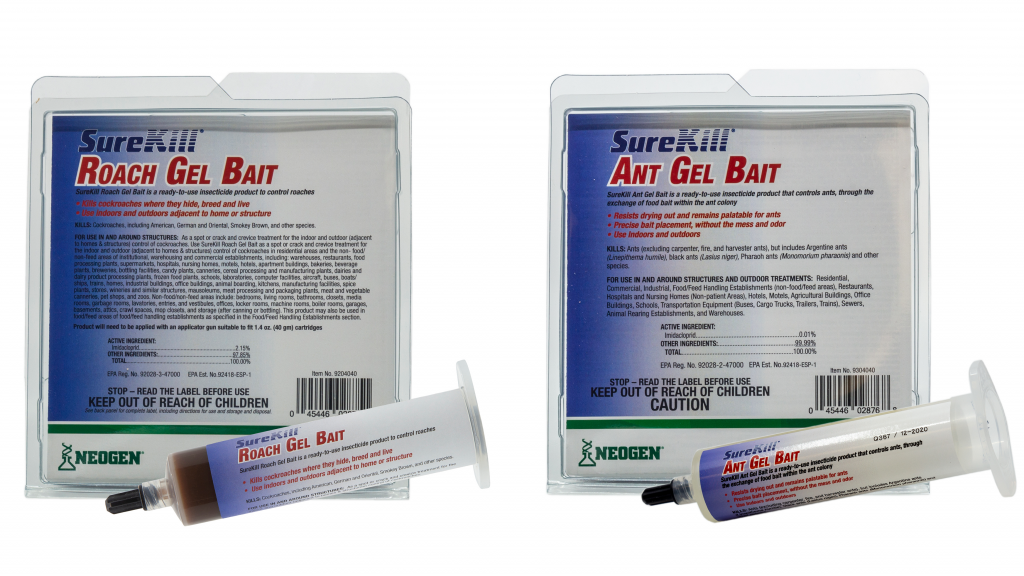 Last year, Neogen proudly introduced SureKill® Ant Gel and SureKill Roach Gel. These gel baits utilize Imidacloprid as the active ingredient in ready-to-use syringes that offer around the clock control of many common ant and cockroach species. Each cartridge contains 40 grams of bait and will provide approximately 1,000 bait applications at the recommended rate. The unique bait matrix resists drying out and remains palatable, making it easy for technicians to control even the most difficult infestations, indoors and out. Both gel baits come in 4-pack or single cartridge offerings allowing PMPs more flexibility in their inventory preferences.
---
Header image: Neogen
This page was produced by North Coast Media's content marketing staff in collaboration with Neogen. NCM Content Marketing connects marketers to audiences and delivers industry trends, business tips and product information. The Pest Management Professional editorial staff did not create this content.