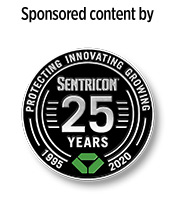 It's been 25 years since the introduction of the Sentricon® system, the now famous standalone termite baiting solution responsible for eliminating millions of termite colonies, and trillions of termites. The real story, however, begins six years earlier — in 1989, with a scientist, a chemical company, and a revolutionary idea.
An entomologist with the University of Florida's Institute of Food and Agricultural Sciences, Dr. Nan-Yao Su collaborated with the Dow Chemical Company to research and develop the world's first termite bait delivery system. While the original compound used in the Sentricon system was patented earlier — in 1984 — Dr. Su and Dow researchers required time to complete, develop and prove the first-ever baiting system.
To combat termites, they would need a triple threat: a palatable bait, a potent compound and an undetectable delivery system that wouldn't alarm foraging termites. It was a natural pairing. While Dow perfected the compound, Dr. Su conducted the research necessary to hijack termite biology and use that biology against them. By inventing a slow-acting elimination system that utilized necessary termite molting behavior, termites would live long enough to deliver the bait to the termite queen — ensuring total colony elimination.
In 1995, the Sentricon system was brought to market, and Certified Sentricon Specialists™ (CSS) — who were then known as Authorized Operators — began protecting homes with a system the likes of which termites had never encountered before.
Spoiler alert: It worked. In fact, it was so effective that, just one year after its commercial debut, the Sentricon system was selected as the go-to solution to protect the Statue of Liberty. Less than five years later, it was protecting a million properties. Today, it protects nearly 5 million properties, a number that continues to rise.
The original Sentricon system looked much different than the product CSSs use today: Since its inception, every single component has evolved with industry research and consumer needs to ensure total colony elimination. Unlike modern in-ground bait stations, the original bait delivery system relied on wooden bait. Bait stations also utilized an active ingredient, hexaflumuron, that has since been substituted with the powerful active ingredient noviflumuron — in the Always Active™ formulation which termites prefer nearly ten times to wood.
Other tools were developed and implemented over time. Scannable codes, locator devices, increasingly effective in-ground bait stations and more were all created to help CSSs service homes and effectively perform their jobs. After all, when it comes to eliminating termites, the rule of thumb is simple: innovate, innovate and innovate some more.
Now, not only have in-ground Sentricon system bait stations evolved, but additional milestones have solidified Sentricon as a leader in termite protection. The first of these milestones was Always Active bait technology, which made its debut 10 years ago. Always Active technology warrants nonstop property protection from the moment of installation. Instead of quarterly homeowner service visits, Always Active allows CSSs to perform just one annual service visit, simplifying routes and ensuring homeowners are protected 24/7/365.
Recruit AG® FlexPack® is a recent innovation in termite elimination. It solved an important challenge in termite control: How to use bait to eliminate aerial colonies? The answer was to develop above-ground bait stations. Recruit AG FlexPack allows CSSs to treat termites directly wherever activity is discovered above-ground whether outdoors and indoors. This means technicians can spot-treat infestations where they occur, initiating the colony elimination process immediately — whether that colony is in an attic, in a tree, or camping out inside a basement wall.
As time marches us further and further from where it all began, one thing is clear: While the Sentricon system has undergone many changes throughout the years, its record of proven colony elimination remains the same. More than a termite baiting system, it is a testament to the legacy of innovation that exists throughout the structural pest control industry, and a forecast for revolutions yet to come. While the past 25 years have shown what's possible when innovation, collaboration and protection come together, imagine what the next 25 years of pest management might hold.
On our 25th anniversary, we look ahead to a bright future. Termites won't have that luxury.
---
This page was produced by North Coast Media's content marketing staff in collaboration with Sentricon. NCM Content Marketing connects marketers to audiences and delivers industry trends, business tips and product information. The Pest Management Professional editorial staff did not create this content.
Header image: Sentricon