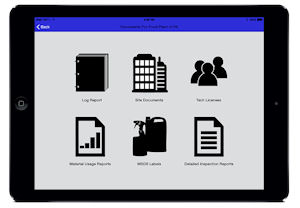 NEPTUNE, NJ—Marathon Data Systems, which provides a cloud-based business management platform for companies with a mobile workforce, has announced the availability of PestPac LogIt, a next-generation product designed to replace cumbersome manual logs used in sanitation audits in food and medical processing plants. The new iPad application serves as a digital logbook for pest control companies servicing these plants, creating a new, seamless and digital auditing process.
"Our clients and auditors need their integrated pest management log books at their fingertips. PestPac LogIt literally puts it in their hands on a digital tablet. Every license, service report, inspection document, MSDS and label; everything is on the tablet just a touch away," says John Moore, an entomologist and Quality Assurance manager at Royal Pest Solutions, New Castle, Del. "We've found the greatest advantage PestPac LogIt provides is during an audit: The auditor can hold the tablet without needing to ask for documents. They can find all up-to-date documentation, or generate trend reports for exactly what they need, from anywhere on site, all by themselves by just touching the screen."
PestPac LogIt's simple and intuitive interface enables users to quickly access technician certifications, material safety data sheets (MSDS), pest activity trend logs and other key documents. Working in conjunction with Marathon Mobile, technicians can easily capture and scan pest activity, record actions taken and capture important signatures. The data syncs with PestPac LogIt's application to produce robust trending reports and charts. All of the data, documents and reports sync back to PestPac and are stored on an iPad, creating an easy-to-use digital logbook.
"The log book plays a critical role in ensuring the safety of the products delivered by food and medical processing plants; PestPac LogIt improves the traditional model," says Chris Sullens, CEO and President of Marathon Data Systems. "Our new PestPac LogIt software takes the traditional three-ring binder and transforms it to match the needs of modern pest control companies. Behind the easy-to-understand interface is powerhouse technology for rapid data collection, assessment and reporting, making the paperless audit a reality. The product is in use in more than 400 facilities today and represents a huge step forward from the current paper-based process.  The beauty is we're just getting started."