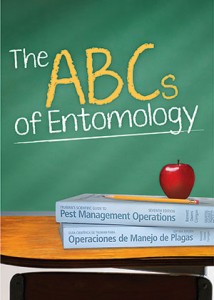 Alphabet soup — ACE and BCE credentials from the ESA (Entomological Society of America) — can be good for the soul and bottom line.
"ACE (Associate Certified Entomologist) and BCE (Board Certified Entomologist) credentials can exponentially increase your bottom line because customers recognize you have the knowledge and ability to solve their pest problems," says Jerry Hatch, BCE and business development specialist at Tempco Pest Control in Fort Myers, Fla. "Companies should build marketing campaigns and technical service offerings around their staffs' ACE and BCE credentials."
Hatch says most clients are willing to pay a premium for expertise — to ensure the job gets done right the first time. But what makes an expert? How can pest management business owners and their clients be more assured the technicians they're hiring have been trained to identify and control key structural pests? The answer, in large part, is ACE and BCE certifications, according to those who hold such credentials and entomological educators.
In 2008, New York-based Bug Off Pest Control Center began delivering ACE training, and through the years has prepared nearly 200 professionals for the ACE exam. Bug Off also offers ACE recertification training.
"ACE and BCE preparatory courses and the pursuit of related credentials deliver the technical edge pros crave," says Andy Linares, Bug Off's president. "It might seem like a bunch of alphabet soup, but the credentials are as good for the bottom line as chicken soup is for the soul."
Entomology 101
An entomologist is much more than a bug expert, says Dr. Stuart Mitchell, BCE, principal technical specialist for PestWest Environmental and Pest Management Professional's (PMP's) technical editor. Becoming an ACE or BCE opens one's eyes to the bug world via science, allowing a pest management professional (PMP) to make more-informed decisions, communicate more clearly with customers and present himself in a way that can positively change customers' preconceived notions of what a PMP is or should be.
"Entomologists often collect bugs and study their biology and behavior, as well as analyze and diagnose the problems those pests cause," Dr. Mitchell says. "PMPs, too, can leverage these skills on the job, in the field and back at the home office."
Part of the increasing appeal of the two ESA certifications is neither requires a professional who works full time to become a full-time student, and much of the preparatory work can be completed locally or online.
Street cred
Hiring an ACE or BCE gives customers peace of mind they're dealing with a professional who stays current with pest management trends and the latest insect research and science, says Chris Stelzig, ESA's director of certification.
"It's far more than a feather in a PMP's cap," Stelzig says. "Certification says: 'I know my stuff — a lot more than just what I've picked up on the job — key knowledge that has to be sought and taught rather than stumbled upon in the field.'"
Hatch agrees. "I held six state certifications in five states, but none gave the impression of accomplishment the BCE credential did," he adds. "It can completely change customers' perceptions of you — from just a spray jockey to a bona fide pest management expert."
For Hatch, board certification represents the pinnacle of professionalism in the pest management industry. It also makes it easier for PMPs to encourage customers to become partners in pest management programs, which goes a long way toward keeping pests at bay and customers satisfied.
Head of the class
Certification is an extension of what PMPs learn on the job. It's less about technique and more about the science behind the technique. It's supplementing practical experience with practical knowledge about key pests a technician might face, including the usual suspects, occasional invaders and invasive species.
Unlike a college degree, ACE and BCE certifications require annual maintenance to stay abreast of new technologies and techniques, as well as to broaden one's knowledge of the insect world. Even the most knowledgeable people in the industry need refresher courses.
"ESA certification is particularly important for PMPs involved in commercial and government contracts," says Dr. Shripat Kamble, BCE, professor of entomology at the University of Nebraska, who's a BCE chair with the ESA BCE Examining Committee. "Certification isn't mandatory for entomologists, but it will be," BCE Kamble says. "Likewise, many employers are already asking for certification before awarding government contracts to commercial pest management companies."
Stelzig says most people pursue certification for one of three reasons: to further their careers; to set examples of professionalism for their teams; and to reach personal and professional goals.
"At first, I thought it was good enough to have a Ph.D. in entomology to work in the industry," says Dr. Freder Medina, BCE and market development specialist for BASF Specialty Products. "I soon decided certification would be an essential part of my career development."
The networking has been fantastic, says Dr. Bob Davis, also a BCE and market development specialist with BASF Specialty Products.
"The opportunity to work with professionals in my immediate field — urban entomology — has been fulfilling," Dr. Davis says. "It's also allowed me to display a degree of professionalism and currency that's not as apparent in many who aren't certified."
While entomologists generally are required to have a bachelor's degree for entry-level positions, a master's degree often is needed for advancement. Many academic institutions offer programs in entomology or related fields such as ecology, biodiversity, toxicology and pest management.
ABCs of ACEs & BCEs
The ACE program focuses on hands-on training and professional development within the field of structural pest management. Alternately, the BCE program is directed toward those already holding degrees in entomology or a related field. Earning ACE certification isn't the same as going to college to become an entomologist or earning a BCE, but it's a solid and proven way for experienced PMPs to showcase their years of training and hard work, Stelzig says.
Becoming an ACE requires passing at least one rigorous examination. ACEs generally specialize in pest management. ACEs also must agree to follow a code of ethics and, as part of the renewal process, provide a copy of their current pesticide applicator's license annually.
Alternately, BCEs must pass at least two rigorous examinations and be specialized in one or more areas of entomology. A BCE is more likely to have received formalized education in entomology. BCEs also must ascribe to a code of ethics and meet a minimum number of continuing education requirements.
"I decided to become a BCE as part of my professional career development," Dr. Medina says. "It allows me to become part of a large network that shares knowledge."
For Dr. Medina, the most rewarding part of being a BCE is the opportunity to help homeowners in his area.
"I've been contacted several times by people with many pest-control-related questions, and it always makes me feel great to be able to help and give back to my community," he says.
Marketing edge
Stelzig says more and more large pest management companies are putting their employees through the ACE program.
"Technical and human resource directors believe in the program and the marketing potential of having certified professionals on staff," Stelzig says.
While noncertified PMPs can be completely capable, professional, effective and serious about their work, the ACE or BCE certification process can enhance their knowledge and help prove their expertise.
For business owners, the credentials are viewed as an opportunity to market their companies as pest management authorities. Certification is something to boast about on vehicles, company signage, in ads and social media, and to include on business cards and in email signatures.
"Our ACE and BCE certifications are intertwined," Stelzig says. "We've seen a strong uptick in the number of BCE applications since ACE has become increasingly important to the industry. ACE and BCE certification numbers will continue to increase as business owners realize the credentials make a big difference to customers and their bottom lines."
Dr. Mitchell, B.C.E., D.O., Ph.D., M.P.H., a board-certified physician and entomologist, is principal technical specialist for Pest West Environmental and PMP's technical editor. He can be reached at 515-333-8923 or docmitchell@northcoastmedia.net.
Nepper, PMP's managing editor, can be reached at 216-706-3775 or wnepper@northcoastmedia.net.
Whitford, PMP's editorial director and publisher, can be reached at 216-706-3766 or mwhitford@northcoastmedia.net.