The Pest Management Professional (PMP) Hall of Fame was established in 1997 to recognize and thank those who have led the pest management industry to new heights. This year, four industry icons — Ed Bradbury, Gene Harrington, Don Reierson, and Dempsey R. Sapp Sr. — join the ranks of 75 other PMP Hall of Fame inductees.
★ Ed Bradbury is cofounder of Viking Termite & Pest Control, one of the largest and most respected pest management companies in North America. He's served as president of the New Jersey Pest Management Association (NJPMA) six times and on several National Pest Management Association (NPMA) committees. Bradbury is also a board member of the NPMA's Professional Pest Management Alliance (PPMA).
★ Gene Harrington didn't take long to make his name in the pest management industry. After starting with a job as manager of government affairs with the National Pest Control Association (now NPMA) two decades ago, Harrington is still with the association as vice president of government affairs, shaping industry-related legislation and regulations.
★ Don Reierson started as a student assistant for fellow PMP Hall of Famer Dr. Walter Ebeling (Class of 2003), studying mosquitoes and other insects. Now he conducts research for the department of entomology at the University of California, Riverside with 2007 PMP Hall of Famer, Dr. Mike Rust. Their research areas include urban insect pests, integrated pest management (IPM), insecticide resistance and field control strategies. Reierson also is a mentor to next-generation researchers.
★ Dempsey R. Sapp Sr. is widely considered a founding father of the pest management industry. After earning his master's degree, he opened Gainesville, Fla.-based Florida Pest Control & Chemical Co., now one of the biggest family-owned pest management companies in the U.S. He was elected president of the Florida Pest Control Association in 1958 and spent three years on the Structural Pest Control Commission of Florida.
Thanks to Our Sponsors
Platinum Sponsor: Bug Off Pest Control Center
Cocktail Sponsor: JT Eaton
Shuttle Sponsor: Control Solutions Inc.
Gold Sponsors: BASF, Control Solutions Inc., Marathon Data Systems, Purdue University, Rockwell Labs Ltd., Service Pro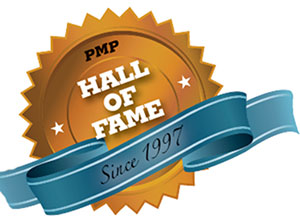 PMP Hall of Famers
1997: Dr. John Osmun, Bob Russell, Dan Stout
1998: Bill Brehm, Bill Buettner, Charlie Hromada, J.E. Sameth
1999: Stanley Baker, Norm Cooper, Norm Ehmann, Otto Orkin
2000: J.J. Davis, Harry Katz, Rufus "Red" Tindol Jr., Clayton "Bud" Wright
2001: Mel Edelstein, Tom Evans, Solomon Rose, Vern Walter
2002: Al Cossetta, Bob & Judy Dold, Dr. Austin Frishman, Dr. Lee Truman
2003: Dr. Walter Ebeling, Dr. Ralph Heal, Dr. Doug Mampe, Mark Weisburger
2004: Dr. Paul Muller, Dr. Phil Spear, Malcolm Stack, Blanton Whitmire
2005: Bob Jenkins Sr., Paul Hardy, Jerry Mix, Harold Stein Jr.
2006: Dr. Gary Bennett, Truly Wheatfield Nolen, Bill Spitz, Jim Steckel
2007: Roy Ashton, Arnold Mallis, Ada & Millard Oldham, Dr. Michael Rust
2008: Dr. Robert Corrigan, Norm Goldenberg, Mark Lacey, Harvey Massey
2009: Al & Sandee Burger, Jacques Hess, Motokazu Hirao, Joe Thomas
2010: Paul K. Adams, Allen James, Bob Kunst, Charles Pomerantz, Dr. Charles Wright
2011: William E. Blasingame Sr., Julius C. Ehrlich, Dr. Roger Gold, Victor Hammel, Raymond Edward "Ed" Scherzinger
2012: Dr. Jerome Goddard, George L. Hockenyos, James A. Nelson, Dr. Michael F. Potter, Gary W. Rollins
2013: Greg Baumann, Stoy Hedges, Vernon McKinzie, Bob Rosenberg, Dr. Thomas Elliot Snyder, Dr. Claude Thomas
2014: Edward Bradbury, Gene Harrington, Donald Reierson, Dempsey R. Sapp Sr.