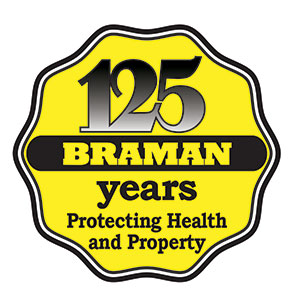 AGAWAM, MA—Braman Termite and Pest Elimination is celebrating 125 years in business. Originally founded in Boston in 1890, Braman moved the headquarters to Agawam in 1980.
Over the years, Braman has changed more than just its centralized location – the business of pest control has an interesting history of its own. The original pest control products, created by "Mr. Braman," (for whom the business still owes its name) were displayed at a Boston meat market owned by Jack Lazarus. These homemade product recipes were left with Lazarus to continue developing when Mr. Braman retired. Lazarus then began a side business applying pesticides when customers complained homemade remedies did not work.
"In 1890, pest control was usually done at night or when no one was around," says Jerry Lazarus, third-generation owner of Braman Termite and Pest Elimination. The evolution of pest control has come a long way. In the late 1800s, pest control was primarily done with kitchen-sink concoctions made with ingredients like arsenic – which has a very distinct and unpleasant smell.
"The common view was that 'if it didn't stink, it didn't work.' Nowadays, if it stinks, you have a problem," Lazarus adds. "Pest control product development has come so far that they can be done in very controlled environments without displacement – we can even treat hospital rooms without moving patients if needed."
There are also technological advancements that have fueled the company's success decade after decade. Modern society might take technology like email, cell phones, bar code scanning, and global positioning systems (GPS) for granted – but those advancements are what have helped Braman provide fast, efficient and customer-centered service.
"In 1890, no recordkeeping was necessary. Now, this technology helps us comply with strict requirements, including records of each and every application along with pesticide usage reports for every applicator that must be submitted to the respective states annually," Lazarus says.
Braman Termite and Pest Elimination has also adopted technology like social media to stay in touch with customers and generally educate the public. In honor of the 125-year anniversary, Braman has prepared 125 themed posts for its Facebook account that will appear throughout the year. Find Braman on Facebook at https://www.facebook.com/BramanPest and "like" the page to see a full year of fun and educational posts.
Braman employee milestones are equally impressive compared to the 125-year anniversary. Many employees have provided decades of service, including:
· Michael Bensche, director of marketing, 31 years of service
· Robert Pajak, special projects manager, 30 years of service
· Rob Weinstein, vice president of sales, 29 years of service
· David Rybinski, branch manager, 29 years of service
· Ed Deuso, senior service professional, 27 years of service
· Leo Mulvaney, service supervisor, 27 years of service
· Wayne Mosher, branch manager, 25 years of service
· Linda Guyette, operations manager, 24 years of service
· Don Tyler, route supervisor, 23 years of service
· Mark Camire, senior service professional, 23 years of service
· William Principe, branch manager, 22 years of service
· Shawn Bradley, sales manager, 21 years of service
· Ed Pertillar, senior service professional, 20 years of service
· John Kloczkowski, senior service professional, 20 years of service