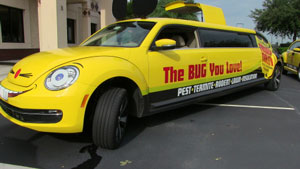 Truly Nolen, a family-owned pest control company with more than 300 iconic yellow mouse cars and two "stretch" Volkswagen bug mouse limousines, added a third VW mouse limo. For more than 50 years, the cheerful yellow vehicles with the company's trademark whiskers, eyes and ears have been visible on the road. Raising its profile as a billboard-on-wheels even further, the mighty VW mouse limo has just gotten a high-tech makeover.
Cruising in community events, parades and loaned to nonprofit organizations to use in silent auctions, the limo, based in Orlando, Fla., is the third VW "stretch" mouse limousine; the other Truly Nolen limos roll out of Dallas and Tucson.
"Our mouse-themed vehicles have helped identify Truly Nolen as the pest control company with a sense of humor for many years," says the company's president, Scott Nolen. "One of our biggest returns while out working in the community is the countless smiles at local events when our mouse vehicles are spotted."
Truly Nolen's latest mouse limousine has a special "gull-wing" door, similar to the DeLorean time machine car made famous in the movie Back to the Future. The one-of-a-kind, turbo diesel VW limo features special hydraulics for going over speed bumps with a 10-in. up-and-down rise. Passengers will enjoy three iPad docking spaces, a DVD player and a cooler.
Professional limousine driver Jack Martin, who has been driving the Truly Nolen mouse limo since its debut in 2005, will be at the wheel of the new vehicle, in celebration of his first decade as an official Truly Nolen driver.
"When you're driving this car everyone around you has a smile on their face and it puts people in a good mood," says Martin. "Nobody has ever seen a stretch VW limo, so that's the first thing people notice, then it's the ears and the tail and outside detail that put it over the top."
Martin is often asked for his autograph and reports that every rest stop takes a minimum of a half an hour, for people who want to take photos with the limo.
In addition, Truly Nolen has also added a new Community Express Vehicle to its fleet. Used for community events, the Community Express Vehicle is equipped with a barbecue grill, tables, tent, music, TVs, water, phone charging station and electric service.