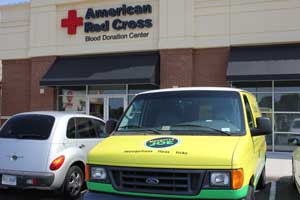 As first reported last month, Virginia Beach, Va.-based Mosquito Joe celebrated National Mosquito Control Awareness Week (June 21-27) in an unusual way: For the third year, through its "Beat the Bloodsuckers" campaign, Mosquito Joe locations across the country partnered with local blood banks to raise awareness about mosquito-borne illnesses and the importance of mosquito control.
As a recent Mosquito Joe blog post explains, "Mosquitoes are collecting blood from us and our friends every day without asking, but we'd rather be donating blood to a better cause. The Red Cross has to collect 15,000 blood donations every day to have enough blood to help patients in 2,700 hospitals and transfusion centers across the country. That's a lot of patients in need, and all of us coming together can help ensure patients receive life-saving blood."
This year, 40 out of 78 franchisees participated and benefited 20 different blood banks across the country. They helped organize blood drives and donated 10 percent of new customer sales that week to local blood donation centers — $7,100 was raised.
"At Mosquito Joe, we pride ourselves on our commitment to serving local communities by not only providing a valuable service, but also through philanthropic initiatives such as our Beat the Bloodsuckers campaign," notes CEO and "Head Joe" Kevin Wilson. "We're looking forward to launching the campaign again next year because as our franchise continues to grow, we'll be able to positively impact even more communities across the country."
Mosquito Joe provides mosquito control treatment services to residential and commercial customers. Each Mosquito Joe operation is an independently owned franchise. Each technician is trained and certified to meet state guidelines and is always in contact with the home office to ensure timely, dependable service. The company also offers a 100 percent satisfaction guarantee to customers.