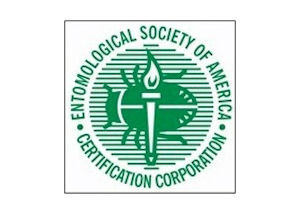 The Entomological Society of America Certification Corporation (ESACC) is proud to name the winners of the 2015 Certification Awards. These include two professional awards, and one student award. The winners will be recognized at Entomology 2015, ESA's 63rd Annual Meeting in Minneapolis, taking place Nov. 15-18, 2015. Additionally, the winner of the ACE Professional Award will also be recognized at the National Pest Management Association's (NPMA's) PestWorld event in Nashville, Oct. 20-23, 2015.
ACE PROFESSIONAL AWARD
This award recognizes the superior contributions of an Associate Certified Entomologist (ACE) in the field of structural pest management. Michael Goldman, ACE, President of Purity Pest Control, has been in the pest management industry for more than 35 years and was the first non-US resident to earn the ACE designation after ESA amended the program rules to require a US pesticide applicators license to apply for the ACE. He is a past president (2 terms) of the Structural Pest Management Association of Ontario and served as Conference Chairman for over 12 years. He is a founding member and past president of the IPM Council of Canada, where he helped establish guidelines and protocols for the turf industry that were eventually accepted and put into law by the Ministry of the Environment of Ontario. Michael was also a founding member of the Pesticide Industry Council of Ontario and sat on the City of Toronto Bed Bug Steering Committee.
DISTINGUISHED SERVICE AWARD TO THE CERTIFICATION PROGRAM
This award encourages, recognizes, and rewards outstanding contributions to the ESA Certification Program and the professionalism of entomology. In addition to being a columnist for Pest Management Professional magazine, Dr. Jim Fredericks, BCE, is NPMA's vice president of technical and regulatory affairs. He is responsible for all aspects of NPMA's technical and entomological publications, services, education, and training, as well as providing strategic direction to NPMA's state and federal public policy efforts.
Dr. Fredericks is also the executive director for the Pest Management Foundation, a nonprofit foundation affiliated with NPMA, whose mission and purpose is to advance the pest management industry through education, research, and training.
Dr. Fredericks is a board-certified entomologist specializing in industrial and urban entomology and currently serves on the ESA Certification Board. He holds a doctorate in entomology from the University of Delaware, where his research focused on the factors influencing how subterranean termites interact with below-ground bait stations. He also holds a master's degree in entomology from the University of Delaware and a bachelor's degree in biology education from Millersville University of Pennsylvania.
Prior to joining NPMA, Dr. Fredericks was technical director for a large pest management firm in serving the mid-Atlantic region, where he served for 11 years. While there, he was responsible for product selection, treatment protocol development, service quality assurance, and technical training.
STUDENT CERTIFICATION AWARD
Sponsored by PestWest Environmental Science, this award recognizes and encourages outstanding entomology graduate students with an interest in the mission of the ESA certification program, and to promote the understanding and importance of the program. Sanjay Basnet is a doctoral student at the University of Nebraska—Lincoln working under the supervision of Dr. Shripat T. Kamble. His Ph.D. research is in molecular toxicology, focusing on the exploration of RNAi in bed bug control. He also works on bed bug specimen preservation techniques: experiments on DNA extraction, PCR amplification, and sequencing. Along with his research project, he is also involved in industry research projects on urban pests, such as ants and subterranean termites.
Basnet received his master's degree in entomology in 2011 from Virginia Tech, under the mentorship of Dr. Douglas G. Pfeiffer, on the invasive brown marmorated stink bug (BMSB) in grapes and raspberries. His graduate research has yielded interesting data and resulted in two referred publications. He obtained his bachelor's degree in agriculture in 2008 from Tribhuwan University, Nepal, and did an internship in advanced agricultural studies at AICAT, Sapir, Israel, in 2009.
Basnet is active within ESA. He has volunteered and presented his research at several ESA branch and national meetings, and participated in the YouTube Video contest. He is interested in the certification program and is planning to obtain his board certification within a year.