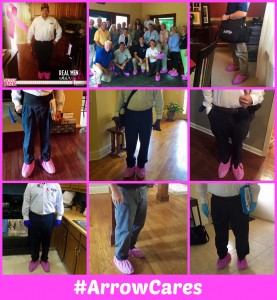 Atlanta-based Arrow Exterminators recently concluded its #ArrowCares social media campaign with a donation of $5,000 to the National Breast Cancer Foundation. The fundraising campaign ran during October in conjunction with Breast Cancer Awareness Month, and encouraged team members and customers to help raise awareness for the disease.
Arrow Exterminators' service professionals wore pink shoe covers during the month of October and asked customers to take a photo of the pink shoe covers and post the picture to social media using #ArrowCares. Arrow pledged a $1 donation to the National Breast Cancer Foundation for each of these posts. Additionally, Arrow hosted a Breast Cancer Health Fair for team members to learn more about the disease and preventative care.
"We saw hundreds of posts from customers, team members and partners, and we are pleased to conclude the campaign with a donation to the National Breast Cancer Foundation," says Emily Thomas Kendrick, president and CEO. "The posts and comments that stemmed from the #ArrowCares campaign were truly inspiring, as breast cancer has had an impact on just about all of us, either directly or through a loved one."
See PMP's November issue for more coverage of how pest professionals nationwide created awareness of Breast Cancer Awareness Month throughout October.