The Purdue University Pest Management Conference is one of the oldest and largest conferences in the country dedicated to bringing together some of the brightest minds in the industry to discuss trends and progressive pest management tactics. This year marks the 80th anniversary of this conference.
On Monday morning, Adam Salyer, a Purdue Ph.D. entomology student, and Dr. Bennett Jordan, director of technical support and regulatory compliance for Copesan, led a live insect ID session in which samples were presented under a magnifying camera projector for attendees to observe on a projection screen. For each pest examined, Salyer and Jordan provided examples of a customer's called-in description of a pest they'd found. They then allowed attendees to give an educated guess based on the verbal description before the live pests were revealed. This helped to illustrate the gap between a customer's description (or what they think they might have) and the reality of the situation. Salyer and Jordan followed with a breakdown of what the pest actually was while pointing to what features make them identifiable.
Salyer led the first half of the presentation, examining a few urban pests such as bed bugs and odorous house ants (OHAs), while Jordan followed with a look at some major stored product pest players — including comparing and contrasting visible differences between drugstore beetles and cigarette beetles, as well as red flour beetles and confused flour beetles.
At 1 p.m. Dr. Gary Bennett, Purdue's professor of urban pest management, welcomed attendees during a brief opening ceremonies speech and was directly followed by Dale Hodgson BCE, regional technical manager for Rose Pest Solutions, who spoke about managing problem pollinators and OHAs. A common theme, and oft-repeated mantra of the industry, is "follow the label." That, and suggesting that professionals stay abreast of regulatory changes, were reaffirmed.
Hodgson also spoke of the importance of knowing the bee keepers in your area so when a company receives, for example, a call about honeybees, they know they can turn to local beekeepers who are often eager to come and remove and relocate hives to a place where they're welcome.
On the topic of OHA's, Hodgson started with some helpful identification tips and characteristics to look for when pursuing the ants. One fun fact culled from the presentation was the truth behind the odor of an OHA. Throughout time it's been described as everything from Murphy's Oil to rotten cocoanut. As it turns out, blue cheese has become one of the most accurate ways to describe the scent because both the cheese and the ants contain the same odor-causing ingredients.
Hodgson also spent some time discussing OHA's frequent nest moving, particularly away from adverse conditions, which can make them difficult to nail down. However, he explained that the ants will reoccupy a previous nest site if conditions improve.
In the afternoon, Jay Bruesch, technical director of Plunkett's Pest Control, led a presentation examining "pest vulnerability points." During the course of his lecture, Breusch explained how there's no such thing as a thinking or clever pest. Pests, he said, learn via kinesthetic memory. For example the muscles of some pests, particularly rodents, "remember" how they got from one point to another and are able to retrace those steps.
"Most pests are conditioned by reward and punishment," Bruesch said — a trait that can lead to things such as rodent trap shyness.
His primary point, however, was simple: there are no silver bullets, although many pests have an Achilles heel, which can be the key to their control. Examples he cited included: stored product pests having a long life cycle that dictates they need time to develop, carpenter ants needing persistent moisture to lay eggs and bed bugs' vulnerability to heat.
A special evening session simply titled "Spiders," was presented by PMP columnist Mark Sheperdigian, who spent 90 minutes taking attendees on a slideshow tour of different types of arachnids' identifiable characteristics, and where they are most like to be found despite their knowing no boundaries. (He was sure to point out that many spiders that aren't indigenous to a region may turn up there anyway, for a multitude of reasons.)
Sticking closely to spiders that PMP's are most likely to encounter, Sheperdigian schooled evening attendees on spiders such as wolf spiders, funnel weaver spiders, orb weavers and brown recluse spiders, which he says are often misidentified.
The exhibition hall was open throughout the day to attendees who wanted to visit with and learn about products from various pest management product manufacturers and distributors.
Stay tuned for more coverage, and check out our Facebook and Twitter pages for the latest highlights from the conference.
Then and now
From our 1946 issue of Pest Management Professional, here is the attendees from the 10th annual conference (then called the Purdue Pest Control Operators Conference).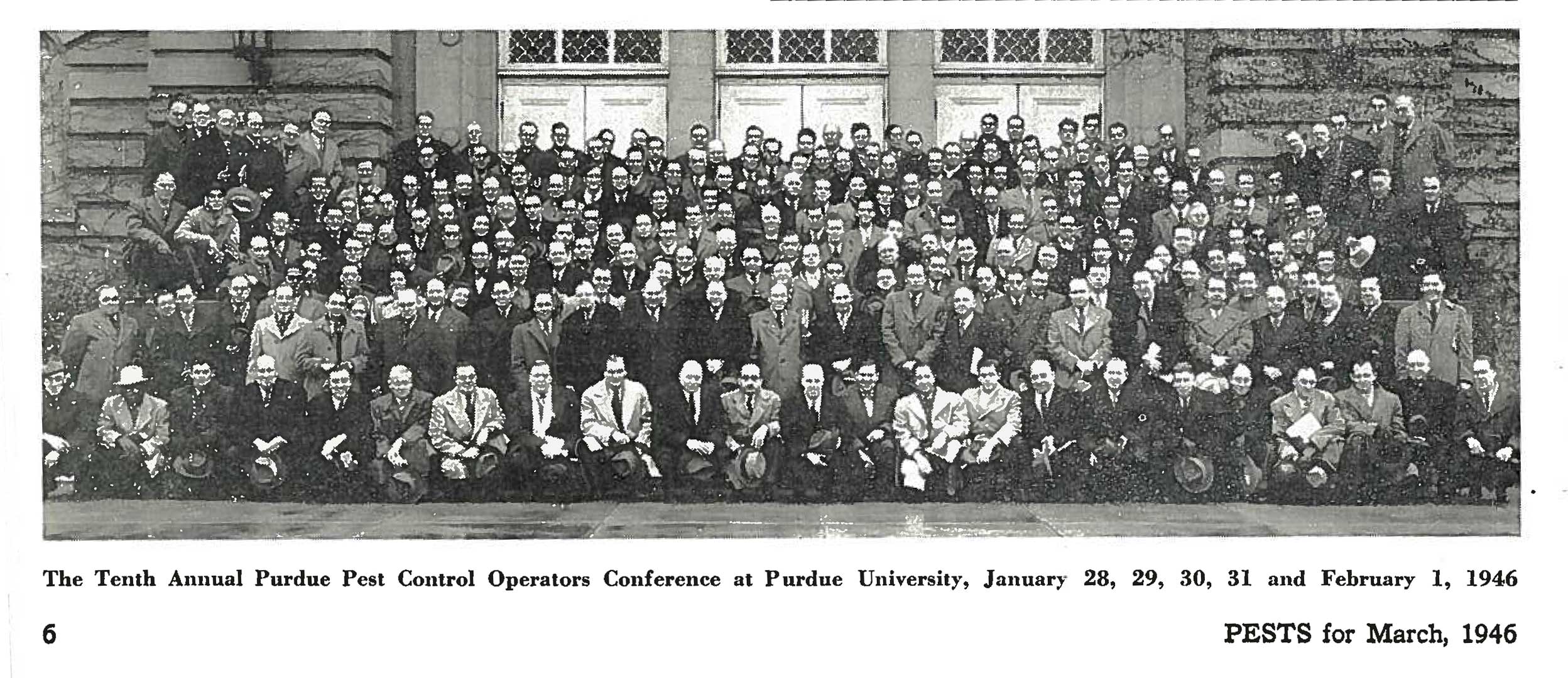 Seventy conferences later, here are the attendees from the 2015 Purdue Pest Management Conference.