It was Feb. 16, 2005, when Donna Coker joined Johnson Pest Control. She didn't really want to go into management, but with 20-plus years experience working in Florida at a large insurance company, and having managed more than 75 employees, we persuaded her into taking the office manager position.
We are forever glad she accepted. We needed someone with her human resource skills to help take the company's operations to a new level.
Donna and her husband, Larry, who had just retired from the U.S. Air Force, moved here to semi-retire and enjoy the peaceful life in the Great Smoky Mountains. Little did they know Donna was about to start a long-term career at Johnson, and Larry would go on to build and remodel homes and work on heating, ventilation and air-conditioning (HVAC) units.
But in July 2005, just six months into her job, Donna was diagnosed with breast cancer. We'll never forget that day. It was a start down a long road of treatments, and accepting the challenge of dealing with cancer for Donna and her family.
Donna has an incredibly supportive family, which also includes her church family and the employees at Johnson Pest Control. Her journey has carried her through nine surgeries and several years of treatments with chemo, radiation and reconstruction.
We've walked with Donna through more than a decade of diagnoses and treatments, all while watching her set the example for facing obstacles and holding onto her faith. As I write this, she is cancer-free, and we pray that this status will continue to be the final word in that chapter of her life.
Taking action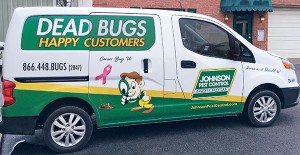 To celebrate Donna's remission, we started our Cancer Bugs Us campaign to raise awareness and donate to find a cure. We're working in conjunction with the Making Strides Against Breast Cancer program from the American Cancer Society.
Each Johnson Pest Control truck has an image of a pink ribbon and the words "Cancer Bugs Us" on it. Our Aflac representative, Tamera Browning, supplied pink shirts to wear as we kicked off our campaign with a photo of all of our employees. (Donna took out an Aflac cancer policy early on, which has paid off for her during this entire ordeal.)
My friend Sheri Spencer Bachman, president of Spencer Pest Services in Atlanta, inspired us. Sheri started a wonderful "Pest Control for a Cure" crusade several years ago and it's been a great success. Our program is just getting started, but we will continue as a company to find ways to participate in and donate to fundraisers for cancer treatment and cures — all to honor Donna and the millions of courageous people like her.
You can reach Contributor Ray Johnson, a past president of the National Pest Management Association (NPMA), president of Sevierville, Tenn.-based Johnson Pest Control, and founder of ACES for Business at ray@johnsonpestcontrol.com.