Did you "Witness these characters" on the back page of Pest Management Professional's April issue? If you couldn't get enough of these walking billboards for pest businesses, read on.
If you have a mascot for your own business, let us recommend an online link to a great article by Hogtown Mascots in Toronto: "Tips to remember when it comes to mascot storage."


Getting ant-sy. Art the Ant represents Swat Pest Management in Evansville, Ind. "Art has always been a huge hit with the children in our community," says Swat's Brittany Spires. "These photos were taken at a Trunk or Treat event in October 2015."
Photos: Swat Pest Management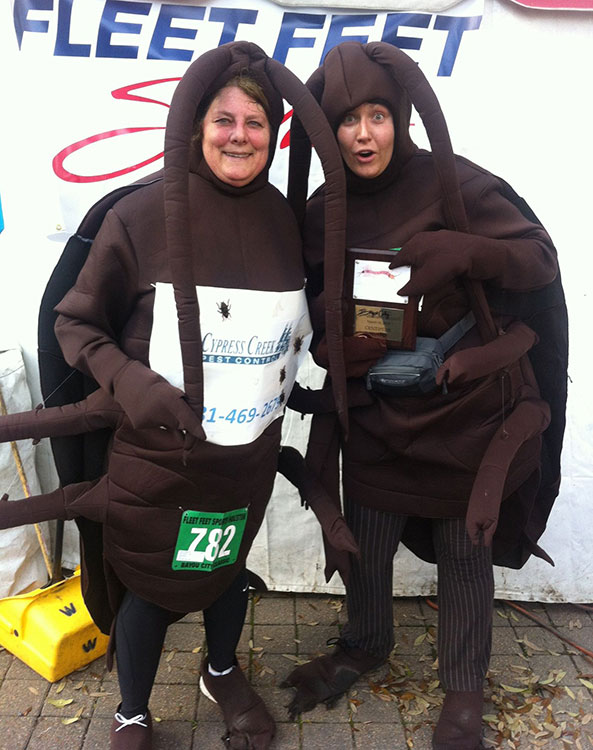 Run for the roaches. "Cypress Creek Pest Control's Running Roaches have done half marathons, 10Ks, 5ks all over town," says Carol Schmitz, vice president of the Houston-based firm. That's her on the left, with fellow buggie Morgan Jacoby.
Photo: Cypress Creek Pest Control



Go, Caddie, go!
Catseye Pest Control
's coolest cat rocks out on stage with a local country band at a fundraising event. He also participates in a local golf tournament in Albany, N.Y. (Editor's Note: Look for an exclusive RoadTrip Roundup from Catseye in our June issue.)
Photos: Catseye USA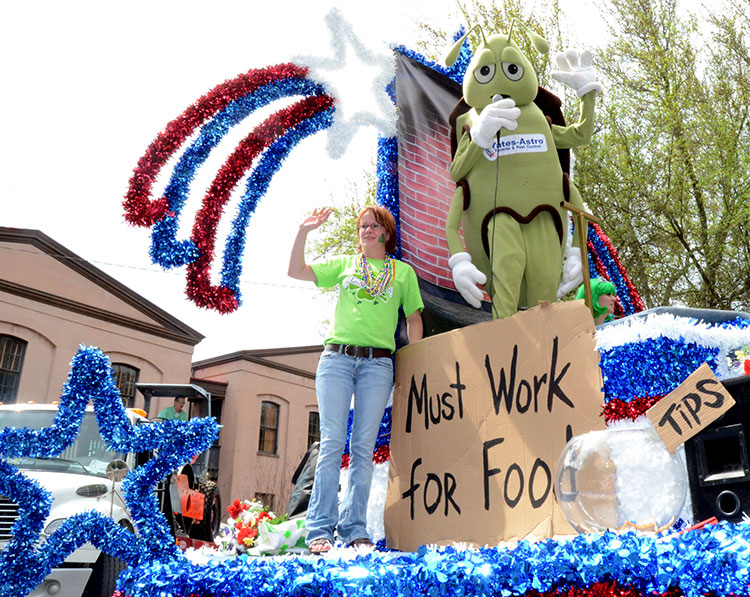 Times are getting tough.
High atop a St. Patrick's Day parade float, the cockroach mascot for Savannah, Ga.-based
Yates-Astro Termite and Pest Control
has to try improv for a living because he was run out of so many homes by the company.
Photo:Yates-Astro Termite and Pest Control
Good deeds, indeed. The Mouse from Northwest Exterminating, Marietta, Ga., keeps busy hanging out with the company's Good Deed Team, which is dedicated to sharing hope and inspiration to others through actions large and small. "Our hope is that through witnessing a good deed, that it will leave a lasting impression and in turn encourage you to make your mark. By offering kindness to others, you can leave your own lasting mark on someone's life," says Marketing Director Christie Lautsch. In the top photo, the Good Deed Team recently participated in a community carnival at Fair Oaks Elementary School. They provided goodie bags and fun bug-related games for the kids. Northwest Exterminating also plans to hold a community-wide naming contest for its mouse mascot. In the meantime, here he is helping out the local chapter of Toys for Tots.
Photos: Northwest Exterminating
Editor Heather Gooch can be reached at hgooch@northcoastmedia.net.