Today's guest blogger is Patrick Quigley, president of Sales Training by Design, with some A to Z tips for running your business. You can download a PDF of the Quigley Creed (as seen below) from: www.salesbydesign.com/SalesByDesignInfographicFinal.pdf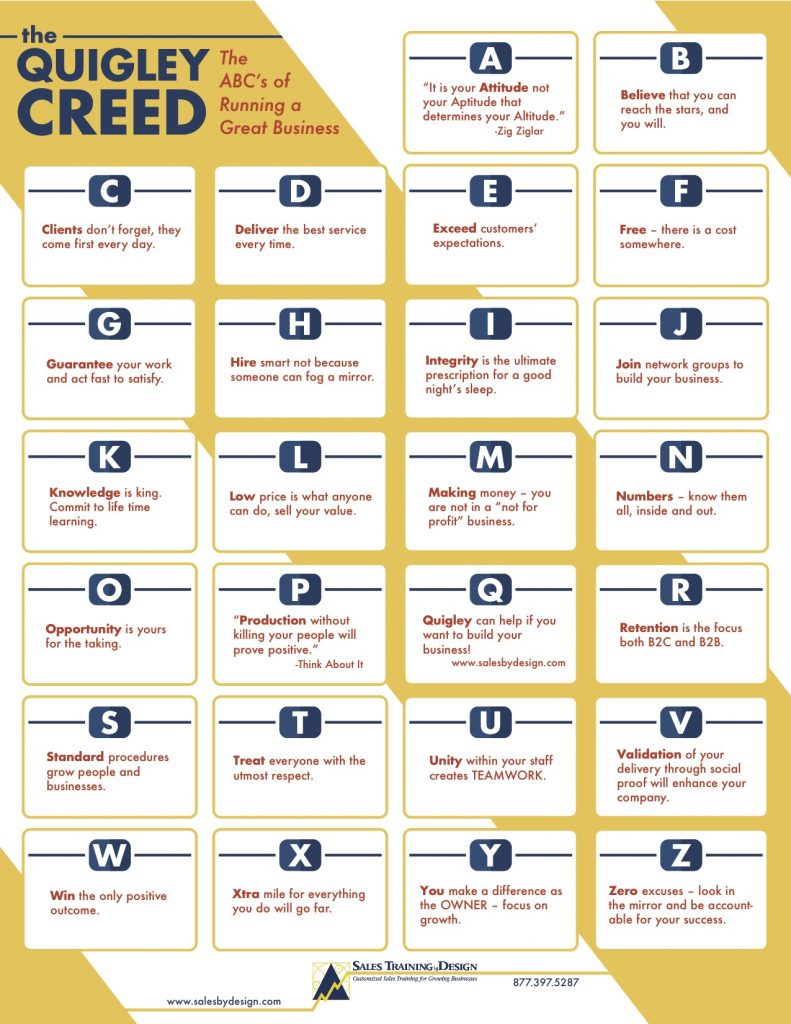 The Quigley Creed – The ABC's of Running a Great Business
A – "It is your Attitude, not your Aptitude, that determines your Altitude."
—Zig Ziglar
B – Believe that you can reach the stars, and you will.
C – Clients don't forget, they come first every day.
D – Deliver the best service every time.
E – Exceed customers' expectations.
F – Free — there is a cost somewhere.
G – Guarantee your work and act fast to satisfy.
H – Hire smart, not because someone can fog a mirror.
I – Integrity is the ultimate prescription for a good night's sleep.
J – Join network groups to build your business.
K – Knowledge is king. Commit to lifetime learning.
L – Low price is what anyone can do. Sell your value.
M – Making money — you are not in a "not for profit" business.
N – Numbers – know them all, inside and out.
O – Opportunity is yours for the taking.
P – "Production without killing your people will prove positive."
—Think About It
Q – Quigley can help if you want to build your business!
www.salesbydesign.com
R – Retention is the focus, both B2C and B2B.
S – Standard procedures grow people and businesses.
T – Treat everyone with the utmost respect.
U – Unity within your staff creates TEAMWORK.
V – Validation of your delivery through social proof will enhance your company.
W – Win the only positive outcome.
X – Xtra mile for everything you do will go far.
Y – You make a difference as the OWNER — focus on growth.
Z – Zero excuses — look in the mirror and be accountable for your success.
—Patrick Quigley, President
Sales Training by Design, Inc.
1-877-397-5287
www.salesbydesign.com